Alex Ovechkin's scorching start: Is a 60-goal season realistic?
Capitals captain Alex Ovechkin has nine goals in nine games this season, 31 goals in his last 30 dating back to last season. Could he top 60 again?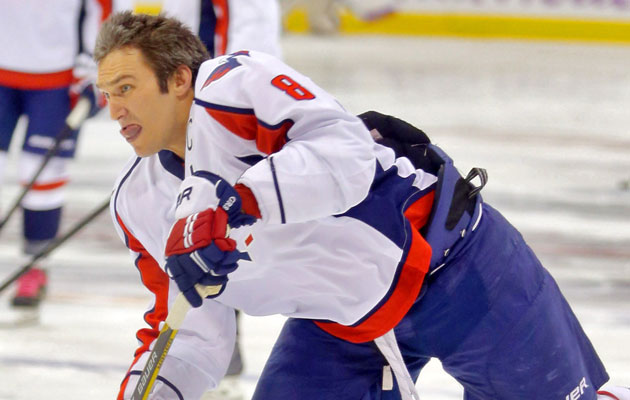 More NHL: Scores | Standings | League Leaders | Odds | Injuries | Power Rankings
One of the silly, albeit kind of fun aspects of the early season and small sample sizes are the projections that result. After his team's opening night, who didn't get a kick out of saying Scott Gomez, he of a 60-game goal drought not long ago, was on pace for 82 goals this season?
Usually those paces meet reality very quickly. Considering it was a huge deal when Steven Stamkos scored 60 goals two seasons ago, 82-goal paces don't last long, even for the best players.
That's exactly what Capitals captain Alex Ovechkin is, one of the best players. And while we cautiously note that his season is still just nine games old, he has maintained an 82-goal pace, his two goals in a win over Winnipeg on Tuesday night giving him nine scores in nine games.
Dating back to his torrid finish to last season, Ovi has an incredible 31 goals in the past 30 (regular-season) games. Suddenly, that sample size doesn't seem that insignificant, does it? That said, it's tough enough to keep up a goal-per-game pace over 30 games, if he were to sustain it through all of this season we're talking about a 103-game stretch. In today's NHL, that's just impossible to imagine.
In other words I'm not going to be that fool that says Ovechkin will score 82 this season for Washington, but it's a very legitimate question to wonder how high he can go and if his career high of 65 goals is within reach.
What makes this start from Ovechkin different from other previous hot starts such as Patrick Marleau's last season in San Jose is that it doesn't seem all that unsustainable for Ovechkin. That is to say he hasn't been overly "lucky," his shooting percentage is only at 14.8 percent right now, certainly not an astronomical number and not all that far above his career average of 12.2 percent.
A little deductive reasoning there would lead you to realizing that Ovechkin is simply firing a lot of shots on net. As we all know, the more you shoot, the more likely you are to score so seeing Ovechkin with 61 shots in nine games for an average of 6.8 shots per game is very encouraging for sustained success. There is skill in getting shots on net in high volume and at that there is nobody better in today's game than Ovechkin.
It only helps that he has a pair of linemates in Nicklas Backstrom and Marcus Johansson who at times appear to have an allergic reaction to shooting. Ovechkin is the shot-taker on the top line and it's not even close. While I'll contend Ovechkin is an underrated passer he doesn't need to pass more often, this is what the Caps want from him and it suits his game best. Clearly.
If Ovi is able to continue shooting at such a frequent rate -- and there's no reason at this point to think he can't -- then that 60 mark is absolutely within reach. Take a look at the only players to tally 55 goals in a season since 2000 (and notice a certain Russian star appearing twice) and their shot totals.
55 goal-seasons since 2000-01
Player
Goals
Shots per game
Shooting percentage
Alex Ovechkin (07-08)
65
5.4
14.6%
Steven Stamkos (11-12)
60
3.7
19.8%
Pavel Bure (00-01)
59
4.7
15.4%
Jonathan Cheechoo (05-06)
56
3.9
17.7%
Alex Ovechkin (08-09)
56
6.7
10.6%
What's interesting (besides Jonathan Cheechoo's presence on that list) is seeing where Ovechkin's two seasons stand. He had easily the lowest shooting percentages in each of those seasons and the highest shot totals. Again, there's no better way to increase your scoring than to increase your shooting.
If we take that 56-goal season from Ovechkin we can use it to help project where he might be headed this year. Notice that his shots per game are just about equal to what he's done in the first nine games of the season. He only played 79 that season, not even 82, so really he could have had 57 or 58 in a full campaign. Then consider that Ovechkin's shooting percentage that season was actually below his career average and it's not outlandish one bit to think he could have just the third season of the new millennium with more than 60 goals (if he stays healthy, which has never been a big issue for him).
To put it a little more clearly, even if his shooting percentage regressed back to his career average of 12.2 percent for the remainder of the season, at 6.8 shots per game you're still talking about 61 (rounded up from 60.6) more goals this season, added on to the nine he already has. If his shot attempts stay consistently high then you can see that even with a slight dip below his career shooting percentage he can chase that career-best of 65.
To be sure, slumps will come. They come for every single player, no matter how good. Ovechkin will not continue to score an average of a goal per game. However, the best slump-buster in Ovechkin's case is to simply keep shooting. In Washington's system, he'll be asked to keep shooting.
Credit has been given to coach Adam Oates for this reigniting of Ovechkin's A-game and that can continue to be the case. It's clear how much a move to the right wing has meant to Ovechkin's performance, it took away a staleness and predictability from his game that had seeped in and contributed to the declining numbers a few years back.
While that's undoubtedly true about Oates having Ovi switch wings, he's been equally instrumental in another goal-scoring department for Ovechkin; the power play. Last season, 16 of Ovi's 32 goals came on the man advantage, four of his nine this season have come in the same circumstance. The Caps simply have one of the best power plays around thanks in large part to Oates' arrival. It's in that environment where Ovechkin sees a lot of time on ice and shows off that in addition to the moves he has streaking down the wing, he still has quite a one-time shot as well. That left circle is his home and he feels quite comfortable there.
Yes, Ovi certainly relies on the power play to get him a lot of his goals -- again, not an entirely bad strategy, power-play chances come every game -- but he's more than just a one-timer from the faceoff dot. He's still pretty good on the rush too as Ondrej Pavelec was reminded on Tuesday night.
After a couple of seasons of being declared to be a diminishing star, Ovechkin has rediscovered his scoring touch and then some. Only question now is how far it will take him this season.
Stats courtesy of Hockey-Reference.com
Show Comments
Hide Comments
With the playoff field cut in half, the stakes keep getting raised

Green has led Vancouver's AHL affiliate since 2013

Series schedules, results and updates from the second round of the Stanley Cup race
Here's how to stay on top of all of the NHL's second-round playoff series, which begin Wed...

Series schedules, results and updates from the first round of the Stanley Cup race

Ottawa took a 3-2 decision to send Boston home, and Washington outlasted Toronto, 2-1