Andrew Ference says he won't be back with Bruins
Andrew Ference says that because of the salary cap he will not return to the Boston Bruins next season.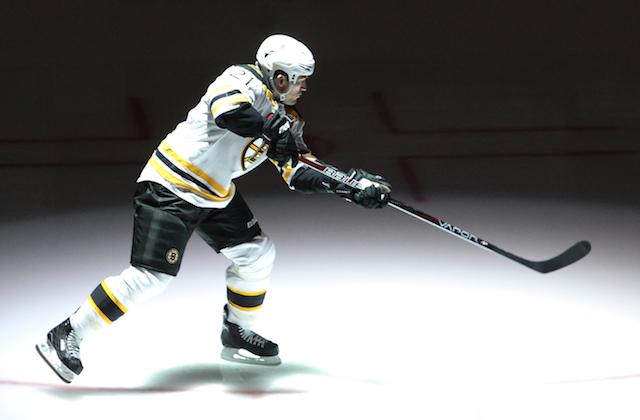 More NHL offseason: Rumors | Top 50 Free Agents | Top 50 Prospects | Mock Draft
Andrew Ference said on Wednesday that he will be playing in 2013-14, but that it won't be with the Boston Bruins.
"With the current cap, Peter [Chiarelli] is not going to be able to keep me," Ference said, referring to the Bruins' general manager. "He's got to resign Tuukka [Rask] and obviously do his side of the business.
"With the new CBA he is restricted. I wish it wasn't so."
Ference has been with the Bruins since they acquired him in a trade with the Calgary Flames during the 2006-07 season and has become a staple on their blue line, winning a Stanley Cup with the team during the 2010-11 season. In 48 games this season he scored four goals to go with nine assists.
Given that Boston has just $5 million in cap space heading into the offseason and still has to work out a new deal with Rask, a restricted free agent, it was going to be nearly impossible for the Bruins to work out a deal with Ference.
When you combine that with the fact that the Bruins have a number of young defensemen working their way into the lineup, including playoff sensation Torey Krug and Dougie Hamilton, it makes the decision to part ways with Ference even easier.
The 34-year-old Ference shouldn't have any problem finding a new club on the open market, and given the current makeup of the free agent list he probably figures to be one of the better players available at the position for a team needing depth on the blue line.
Perhaps his most famous moment with the Bruins came during the 2011 playoffs when he "unintentionally" gave Montreal fans the finger after a goal (though, he later admitted it was intentional) on their way to the Stanley Cup.
Show Comments
Hide Comments
Our Latest Stories
Aramark, Heinz Field's food provider, is featuring a face-off of city-inspired dishes for Saturday's...

Once the most favored potential Stanley Cup winner, Chicago has fallen behind Washington,...

In the first big move before the NHL's March 1 trade deadline, both teams benefit from Stone...
Avalanche center tops the pool of big names dropped in trade rumors this season

Here's how to catch this year's Battle of Pennsylvania featuring the Flyers and Penguins

As March draws closer, a number of teams have strengthened their case for a run at the Stanley...