Avalanche talking about trading No. 1 pick
The Colorado Avalanche are discussing the possibility of trading the No. 1 overall pick in the draft.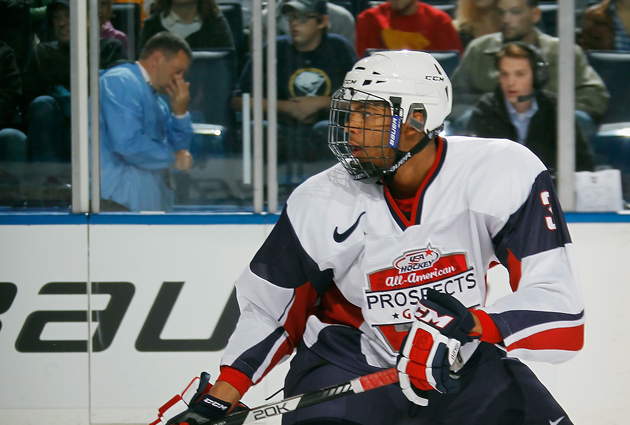 More NHL Playoffs: Scores | TV Schedule | Expert Picks | Odds | Mock Draft | Rumors
Patrick Roy was introduced as the new coach of the Colorado Avalanche on Tuesday, and as part of that arrangement he's reportedly going to be the one working out trades with other teams.
It appears that one of those trades could involve one of Colorado's most valuable assets: The No. 1 overall pick in the upcoming draft.
According to Renaud Lavoie of RDS, Roy told Avalanche president of hockey operations Joe Sakic on Tuesday that the team has to study the possibility of trading the No. 1 overall pick in next month's draft. The Avalanche, owners of the second-worst record in hockey during the regular season, won the draft lottery a couple of weeks ago and moved up to the top spot.
During an interview on NHL Network, Roy said that it is possible the team could trade the pick and that it is something they've discussed.
It's widely been assumed that the Avalanche would use that pick to take Portland Winterhawks defenseman Seth Jones, son of former NBA player Popeye Jones.
Roy and the Avalanche wouldn't be doing their jobs if they didn't at least consider trade offers for the pick, and I'm sure every team that has ever held the top pick has not only discussed the possiblity of moving it, but also listened to trade offers. Going public with their discussions could just be their way of trying to drum up interest in the pick so that maybe another team presents them with an offer that completely blows them out of the water.
But unless somebody makes such offer, trading the top pick seems like it could be a risky move if you're not getting a known commodity (like a proven, yet very young NHL player) in return. Even if you're only moving a few spots back in the draft.
Anything more than one or two slots could be the difference between getting a franchise player and a guy who's simply very good. Even if you're getting multiple picks in return for one superstar is always more valuable than two or three good players (or the potential for two or three good players).
The last time the No. 1 overall pick in the draft was traded was in 2003 when Florida, the original owner of the pick, sent it to Pittsburgh (who selected Marc-Andre Fleury) for Mikael Samuelsson and the No. 3 overall pick (Nathan Horton).
Show Comments
Hide Comments
Our Latest Stories
It's only the preseason, but this save by Nathan Lieuwen might not be topped this year

The World Cup hosts are one win away from reclaiming the title

It's only the preseason, but noted agitator Shaw is in mid-season form
The league is going all out for its year-long centennial celebration

Johnny Gaudreau, Nikita Kucherov and other top unsigned RFAs risk missing the start of the...

Team Europe will be without one of their top forwards against Canada