Awkward: Rick DiPietro, AHL team in same Toronto hotel as Isles
The Charlotte Checkers, with Rick DiPietro, are staying at the same hotel as the New York Islanders in Toronto. That's not awkward ...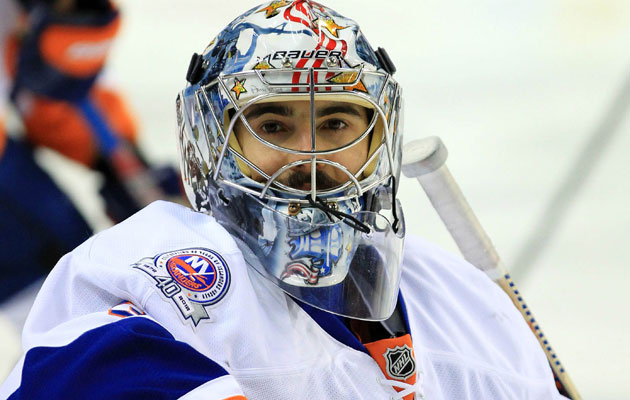 More NHL: Scores | Standings | League Leaders | Odds | Injuries | Power Rankings
The New York Islanders are in Toronto to play the Maple Leafs on Tuesday night in NHL action. The Charlotte Checkers are in Toronto for a pair of games including one on Tuesday night against the Marlines in AHL action.
That's why things might get a little awkward in Canada's biggest city and that's ignoring all of the shenanigans at Toronto City Hall.
Just arrived in TO, where the #Isles and AHL's Charlotte Checkers will be sharing a hotel.

— Arthur Staple (@StapeNewsday) November 18, 2013
Why is that awkward you might ask? Well a certain highly paid goaltender who was bought out by the Islanders this summer now plays for the Hurricanes' AHL affiliate in Charlotte. That of course would be Rick DiPietro, the former No. 1 overall draft pick by the Isles in the 2000 draft. Yup, awkward ...
By the way, the season in the AHL could be going better for DiPietro, a LOT better. He probably won't be trying to rub his post-Isles play in their faces or anything (not that he would regardless, but it's fun to imagine it) as he has really struggled in limited action. In four games for the Checkers DiPietro has an 0-3-0-0 record with a whopping 5.57 goals against average and .839 save percentage. That's not a large sample size but still ... WOOF!
In other words, that situation might be as uncomfortable as seeing an old girl/boyfriend at a high-school reunion. Or getting spotted stirring a cup of Tim Horton's on an NHL bench ...
Show Comments
Hide Comments
Preds captain has three more days to recover from a hit to the head before final begins next...

Replicating its Game 6 dominance -- everywhere but the scoreboard -- might not be easy for...

Ottawa recovers from a 7-0 loss in Game 5 to quiet Pittsburgh's offense
Series schedules, results and updates from the Eastern and Western conference finals

Out for the remainder of the postseason, Johansen is still part of the Predators' playoff...

Nashville refuses to back down despite taking fewer than 20 shots against fill-in goalie Jonathan...