Ben Scrivens traded to Oilers after Devan Dubnyk deal
The Edmonton Oilers traded one goalie then traded for another, landing Ben Scrivens from the Kings for a third-round pick.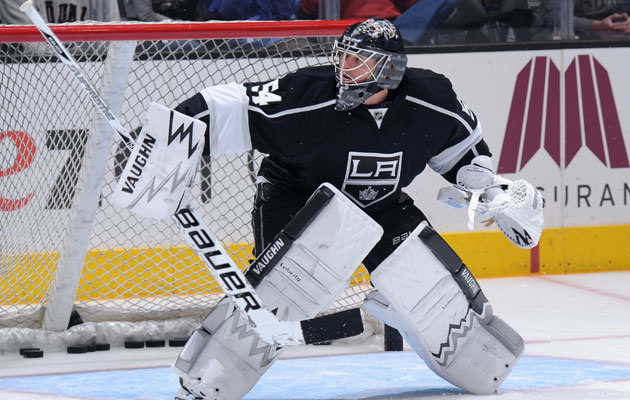 More NHL: Scores | Standings | League Leaders | Odds | Injuries | Power Rankings
One trade wasn't enough for the Oilers on Wednesday, they made it two.
Not long after the Oilers traded goalie Devan Dubnyk to Nashville for Matt Hendricks, the Oilers turned around and filled the goaltending vacancy by landing Ben Scrivens from the LA Kings in exchange for a third-round draft pick.
So to clarify, let's put this in terms of a three-team trade just to neatly wrap up the two separate transactions.
Edmonton Oilers get:
F Matt Hendricks
G Ben Scrivens
LA Kings get:
Edmonton's third-round draft pick
Nashville gets:
G Devan Dubnyk
All of a sudden that first Oilers deal makes a bit more sense now, doesn't it? The Oilers simply swapped goalies more or less while also picking up a fourth-liner in Hendricks. I'm still not sure why they needed to pick up Hendricks in the first deal with his contract but they see a need for a bottom-six guy with fire apparently.
Either way, they ended up swapping Dubnyk for Scrivens (we won't worry about the third-rounder, you never know what that might yield and this year's draft is not believed to be very deep or strong). Both are free agents after this season and at least the Oilers might keep Scrivens, who is from the Edmonton area.
A straight comparison of numbers favors Scrivens over Dubnyk this season and it's not close. Scrivens has a .931 save percentage this season, one of the best marks in the NHL. Sure beats the .894 of Dubnyk. Of course the difference in playing behind the Kings defense vs. playing behind the Oilers defense is massive. If Scrivens is able to keep his save percentage up that high it will be astonishing.
Scrivens also comes with a familiarity for Oilers coach Dallas Eakins, who was with Scrivens in AHL Toronto. That could certainly play a factor as the Oilers try to improve their goaltending situation. Ilya Bryzgalov hasn't proven to be much better than Dubnyk.
So really for Edmonton the trades can be seen as swapping relatively comparable goalies (even if the numbers don't look like it) and then a third-rounder for Matt Hendricks. Normally I wouldn't call Hendricks for a third-rounder a good deal for Edmonton but if Scrivens works out in net then obviously the view on that changes some. Craig MacTavish wanted to shake things up. Consider things shaken.
From the Kings' perspective this doesn't figure to hurt that much. Yes, Scrivens has been very good for them but they found out in Jonathan Quick's injury absence (he's back now) that prospect Martin Jones was ready for the NHL too. All of a sudden the Kings had a glut of goalies and Scrivens became the odd man out. The Kings were dealing from a position of strength and didn't get much for Scrivens but let's remember that third-round pick will be very high, almost a late second-rounder.
Show Comments
Hide Comments
Nashville had big-name fans in the house for another win over St. Louis

Series schedules, results and updates from the second round of the Stanley Cup race

New Jersey claims No. 1 draft pick after having an 8.5 percent chance of earning the top s...
Ottawa takes a 2-0 lead over New York, and Pittsburgh does the same against Washington

St. Louis connected on one of five power plays to tie the series while Anaheim loses again...

Ottawa's defense came up big in Game 1 to beat New York, and the Penguins beat the Capitals...