Bettman: Salary cap now estimated in $69 million-$70 million range
Gary Bettman spoke with media in Philadelphia on Tuesday and gave an update on next season's salary cap, now saying it will likely be between $69 million and $70 million.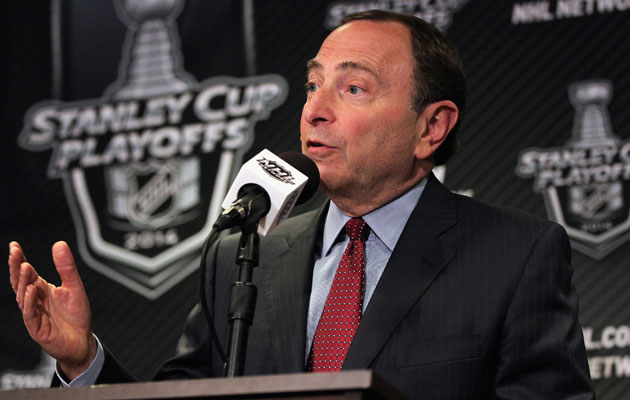 More Playoffs: Schedule, TV listings | Expert Picks | Bracket | Scores | Odds
The Stanley Cup playoffs have only just begun but it's never too early to look forward to next season, particularly for those teams who are already done and can do nothing but figure out how to get better.
Essential to the offseason planning is knowing what the salary cap will be next season so every team knows what kind of money they have to recklessly blow in free agency to rebuild.
At one point there was a wild hope that the salary cap could rise to $71 million or so after a record year in revenue thanks in part to six outdoor games and new television deals in Canada. But Kings GM Dean Lombardi -- probably the smartest GM in hockey -- poured some water on that by saying the cap would likely be more around $68 million with the falling Canadian dollar.
The real cap looks like it's going to be somewhere in between, so at least Lombardi was on to something. Commissioner Gary Bettman spoke with reporters in Philadelphia on Tuesday before the Flyers and Rangers played Game 3 and among the updates he gave was the latest estimate on the salary cap.
Gary Bettman does a Q&A prior to Rangers-Flyers Game 3. Estimates salary cap in $69-70 million range but nothing finalized on that.

— Andrew Gross (@AGrossRecord) April 22, 2014
While it's not the massive jump that had been optimistically projected but it is still a jump of nearly $6 million over this season's salary cap that's at $64.3 million. Teams will find ways to use that new-found cap space.
Among the other topics that Bettman addressed was the Islanders sale (nothing imminent, won't move to Brooklyn until 2015-16 regardless), the next Winter Classic (Capitals' opponent should be announced in new couple of weeks) and the shootout (it's staying because fans like it).
We'll hear even more when the Stanley Cup Final begins because he along with Bill Daly hold the annual "state of the union" prior to Game 1 when things are a bit more finalized.
Pittsburgh sits atop them all as the repeat champs, while Nashville rises up after its big...

Islanders could also be loading up for scoring talent, and Vegas has plenty of D-men to se...

Fired by Dallas this offseason, Ruff is expected to replace Jeff Beukeboom
Even without a can't-miss prospect, the first round features a handful of solid center pic...

Casey Mittelstadt goes off the board in the top 10 picks of the 2017 NHL Entry Draft

New Jersey makes the Halifax Mooseheads star the first overall selection in this year's dr...