Bettman updates Coyotes situation, says NHL has bounced back
Gary Bettman and Bill Daly updated the 'state of the union' before Game 1, giving updates on the continuing saga with the Coyotes and more.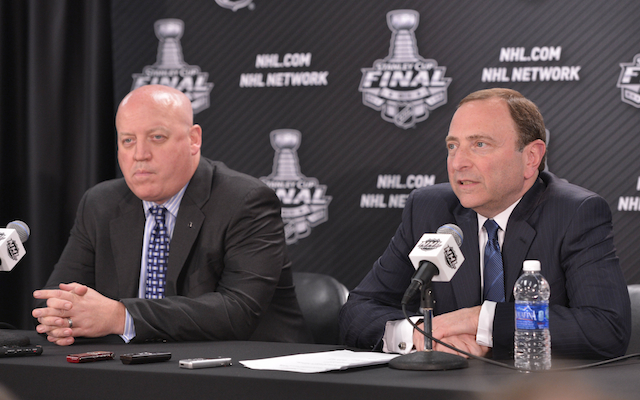 More NHL Playoffs: Scores | TV Schedule | Expert Picks | Odds | Mock Draft | Rumors
CHICAGO -- NHL commissioner Gary Bettman and deputy commissioner Bill Daly had their annual state of the union session with the media prior to Game 1 of the Stanley Cup Final and once again the major topic of conversation surrounded the situation in Phoenix with the Coyotes.
"Obviously we're getting to the point where some decisions are going to have to be made both by the city of Glendale and by us," Bettman said of the lingering ownership uncertainty. "I haven't set a timeline but time is running shorter.
"It's been a complicated process. In our minds we understand we're dealing with a time frame but a specific day isn't going to do it. But time is getting short. This is really going to be a decision that the city of Glendale is going to have to make."
Neither Bettman nor Daly would commit to the team remaining in Arizona for next season but did continue to reiterate the desire is for the team to remain where it is.
If the team were to not play in Arizona next season, they weren't ready to answer where they might play ... or if they would play at all.
"There are a number of markets that have expressed interest to us over the years and our phone keeps ringing the longer the Coyotes situation goes unresolved," Bettman said.
I don't want to begin a process, particularly publicly to where there is going to be a lot of speculation to where the team might go if it moved," Bettman said. "That would unfairly raise expectations in places and I don't want to do that to those communities."
As to a possible hiatus for the franchise, Bettman went into full-on lawyer mode without actually shooting the idea down.
"There are a myriad of options and we're not prepared to engage in speculation about what the optionality is. The focus, at least for the time being, remains on having the Coyotes be in Arizona. Obviously we'll have lots of choices and decisions and if we get to that time -- hopefully we won't -- we'll focus on which one is the best."
This has been a thorn in the NHL's side for a long time and Bettman made it sound as if this was possibly close to coming to a head, one way or another. But still, it could drag on even longer -- and would anybody really be surprised if it did?
Just to be clear, though, the NHL remains committed to the team not moving. Why this undying devotion to the desert?
"We try to avoid franchise relocation. We don't think it's right to the fans, we don't think it's fair to communities that build you buildings," Bettman explained. "We're going to try to preserve what's in place."
And, the league still believes it could be a good market.
This franchise could actually be successful from a business standpoint. We've seen what the fan base will do with all the uncertainty, we understand the dynamics from the community. If there were certainty surrounding this franchise, its virtues would improve dramatically and immediately just by putting in a new owner."
The next benchmarks in this long, drawn-out tale will come June 25 when the city of Glendale meets and then two days later the NHL Board of Governors will gather. In his own sly way, Bettman indicated a decision could be necessary by that time.
As for the rest of the press conference:
NOTES
•  On the NHL's strength coming out of the lockout:
The revenues for the shortened season, in which the NHL only played 58 percent of its regular season, were expected to be higher than average, though Bettman said those numbers were not yet final. Despite only getting slightly more than half of the season in, Bettman said the league expects to have taken in more money than it normally would in 58 percent of its games.
The NHL's buildings were at 97 percent capacity league-wide this season and at 100 percent capacity for the Stanley Cup Playoffs, according to Bettman. With a long-term agreement in place between the NHL and NHLPA and at least 10 years of labor peace ahead, Bettman said the league will remain focused on growing the game.
•  On NHL participation in the Olympics:
Time is running short on this issue as national team training camps are often held in August. Based on the comments from deputy commissioner Daly, it sounds as though the holdup is tied mainly to the more trying logistics of the Olympics location in Sochi, Russia. Additionally it appears the NHLPA may have more issues with the current state of negotiations than the league does currently.
Once the Olympic issue is settled, which Daly admitted is taking longer than he anticipated, the NHL and NHLPA will convene to discuss its international hockey ventures, including a potential future World Cup of Hockey, and will examine NHL player participation in the IIHF World Championship.
•  On concussions:
Bettman and Daly revealed that concussions on a per-game basis were down slightly this year. The commissioner reiterated that player safety remains a "vitally important" issue for the league and it will continue to devote energy and resources to curtailing concussions.
•  On next season's schedule: "The schedule is going to be a little later than prior years. It's a function of the shorter season this year, it's partly a fuction of the Olympics process, it's partly a function of Phoenix. So I expect the schedule some time in July." -- Bill Daly
•  The NHL has decided on names for the divisions in next year's alignment but they aren't going to reveal them yet.
•  Bettman praised the officials, admitting that nobody is perfect but they think the officials have been good, using the word "consistent" to describe their performance this potseason.
•  And yes, Bettman will still do the Cup ceremony.
Show Comments
Hide Comments
Our Latest Stories
Here's how to catch this year's Battle of Pennsylvania featuring the Flyers and Penguins

As March draws closer, a number of teams have strengthened their case for a run at the Stanley...

Duquesne University students show off hockey in skills while chasing a rat from their hous...
Washington has 18 wins during a 21-game stretch, including 12 straight victories at home

The Penguins stud becomes Mr. 1,000 and is the 12th fastest in NHL history to earn the tit...

The interim coach has ridden versatility and a winning track record to a 3-0 start