Blackhawks general manager Stan Bowman signs two-year extension
Blackhawks GM Stan Bowman has been busy re-signing his players so on Wednesday it was his turn. The Hawks boss has a new two-year extension.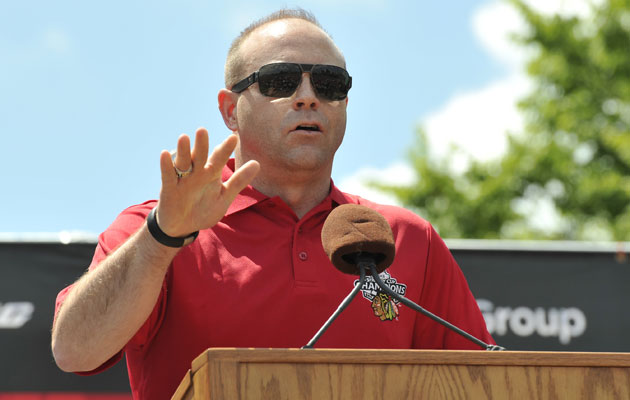 More NHL offseason: Rumors | Top 50 Free Agents | Buyout Tracker | Trades | Transactions
The summer of extensions continues in Chicago. On Wednesday it was the boss' turn, general manager Stan Bowman.
The man who helped reload the Blackhawks after their Stanley Cup in 2010 for their championship run this past season was rewarded with a two-year extension. It means he'll be running the show through 2017-18 in Chicago (and very possibly more when it's time for another extension down the line, this one is pretty short).
"Stan has been an integral part of our organizational success and we are proud to reward him with a well-deserved extension," Blackhawks President and CEO John McDonough said. "From the amateur levels to our team in Chicago, Stan has a great system in place as we all strive for consistent excellence throughout the organization."
Bowman has been on the job in Chi-town for a few years but at 49 he remains the youngest GM in the league. It hasn't been a detriment at all, though, clearly.
Indeed, Bowman took over a very gifted team from former GM Dale Tallon but it wasn't as if he was given the keys to a car running smoothly. That summer after the 2010 Cup the Blackhawks had to make a lot of tough decisions and decimate a good portion of their roster but they identified and kept the core players, built back up around them and won the Cup again this past season with a dominant campaign.
Bowman has been doing his best to not let the dismantling happen again as he has signed new deals with a few of his players this summer like Bryan Bickell, Niklas Hjalmarsson and Corey Crawford while assuring everybody that Patrick Kane and Jonathan Toews are in Chicago to stay. He will have some balancing acts to pull with the cap but he's doing all he can to keep the team together. That's enough to keep him around for a few more years.
The 45-year-old forward remains unsigned but has shown little desire to hang up the skates

Pittsburgh also has been linked to Matt Duchene and could be in the mix for Tyler Bozak

Nashville extends its 24-year-old restricted free agent with what could be bargain numbers
Calgary forward is all for playing for the Flames, but he also likes the idea of going to...

Plans for renovating KeyArena are now also being overseen by NHL-to-Seattle hopefuls

With Leslie Anderson selling the Rockets, there is newfound hope for hockey in Houston