Blackhawks GM says Kane and Toews will be in Chicago 'forever'
Don't worry, Blackhawks fans, recent big deals don't mean Patrick Kane and Jonathan Toews won't be around. They're in Chicago forever.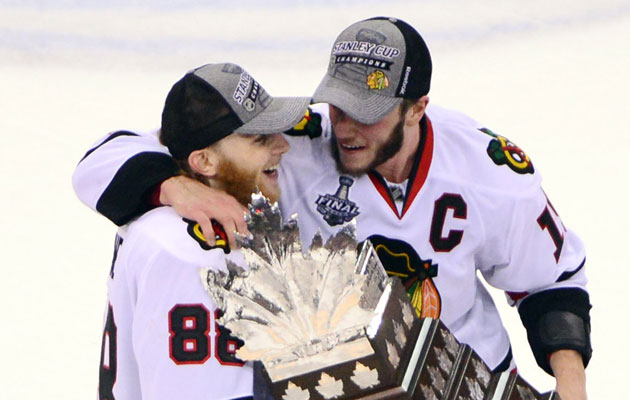 More NHL offseason: Rumors | Top 50 Free Agents | Buyout Tracker | Trades | Transactions
The Chicago Blackhawks have been busy signing players to extensions recently, including Corey Crawford and Niklas Hjalmarsson just this past week. They can't do it yet with superstars Jonathan Toews and Patrick Kane, but they will when they can.
While it really doesn't come as a surprise given their immense talent level, GM Stan Bowman has zero intention of letting either way get away from Chicago. Ever. That's what he told the team's website when talking about their contracts running out in the near future.
"Jonathan Toews and Patrick Kane will be here forever," said Bowman, the Blackhawks' Vice President/General Manager. "I can't predict what the salary cap will be in the near future, but I can tell you that Jonathan and Patrick will be on this team. Those two players put the Blackhawks back on the map, they're up in a couple years, and whatever the numbers are, we'll figure out the details. The notion that the money we're spending now will affect our ability to keep Jonathan and Kane ... it's a non-issue. They will be here no matter what."
You get that guys? Forever!
Needless to say, you can expect that when it comes time for new contracts in two years for each, they will get max deals most likely in terms of length with some big bucks attached to it and Bowman will do what it takes to ensure that happens.
It doesn't seem like a bold thing to say now but what happens in 10 years or so if the production starts to dip and things just aren't going as well? Sorry, they're all but bonded for life. It's a marriage. Although I suppose all marriages can end with a divorce that you don't see coming in the moments of wedded bliss, but Bowman is committed until (career) death do them part.
Right now each player has two years remaining on their deals with equal cap hits of $6.3 million annually. It won't be easy to keep them both on the roster and fit everybody else in as the Blackhawks have a high payroll for years to come but it's going to happen.
Toews, the captain, was selected third overall in the 2006 draft while Kane went No. 1 overall in 2007. They've been major parts of the Blackhawks' two Stanley Cup runs in the past four years and still figure to have long careers ahead of them, all to be spent in Chicago.
Now they will always have their wingman around.
Show Comments
Hide Comments
With the playoff field cut in half, the stakes keep getting raised

Green has led Vancouver's AHL affiliate since 2013

Series schedules, results and updates from the second round of the Stanley Cup race
Here's how to stay on top of all of the NHL's second-round playoff series, which begin Wed...

Series schedules, results and updates from the first round of the Stanley Cup race

Ottawa took a 3-2 decision to send Boston home, and Washington outlasted Toronto, 2-1