Blackhawks take out full page ad in Boston Globe
The Chicago Blackhawks decided to take out a full page ad in the Boston Globe to thank the city of Boston, the Bruins and their fans.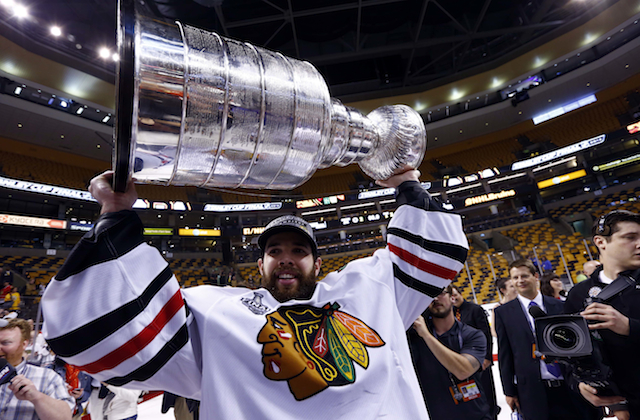 More NHL offseason: Rumors | Top 50 Free Agents | Top 50 Prospects | Mock Draft
Less than a week after the Chicago Blackhawks won the Stanley Cup with a thrilling 3-2 come-from-behind victory in Boston, the organization decided to take out a full page ad in the Boston Globe to thank the Bruins organization and the people of Boston for all of their hospitality during the series.
Here is the complete text of the ad:
An open letter to the Boston Bruins organization and the city of Boston:

Hockey is a tough game. As impressed as we were by the strength, talent, and competitive spirit of the Boston Bruins on the ice, we were deeply touched by what happened off the ice. Rarely have we experienced the hospitality you afforded us throughout the playoff series between two incredibly gifted teams.

On behalf of the Chicago Blackhawks organization and the entire Wirtz Corporation, we want to personally express our heartfelt appreciation to your city, the Bruins organization, and especially the citizens of Boston for the remarkable welcome you showed our team and the many Chicagoans who visited.

From Boston's political leadership to every member of the Bruins organization; from the players to the people on the streets, you demonstrated respect, good sportsmanship, and a genuine love for the great game of hockey.

Like the rest of the world, Chicagoans have been reminded in recent days of Boston's strength. Please know we tip our hat to your city's big heart and gracious spirit. You lead by example and have set the bar very high for others to follow.

Respectfully,

Rocky Wirtz
Chairman, Wirtz Corporation

John McDonough
President & CEO, Chicago Blackhawks
You can see the ad in full by clicking here.
Show Comments
Hide Comments
Series schedules, results and updates from the second round of the Stanley Cup race

Here's how to stay on top of all of the NHL's second-round playoff series, which begin Wed...

Series schedules, results and updates from the first round of the Stanley Cup race
Ottawa took a 3-2 decision to send Boston home, and Washington outlasted Toronto, 2-1

Stevens was L.A.'s interim coach for four games in the 2011-12 season

St. Louis, New York and Edmonton eked out victories that eliminated Minnesota, Montreal and...