Blue Jackets D Nikita Nikitin sees no need to learn English
Blue Jackets defenseman Nikita Nikitin is one of four Russians playing for Columbus, which is good since Nkitin doesn't speak English well.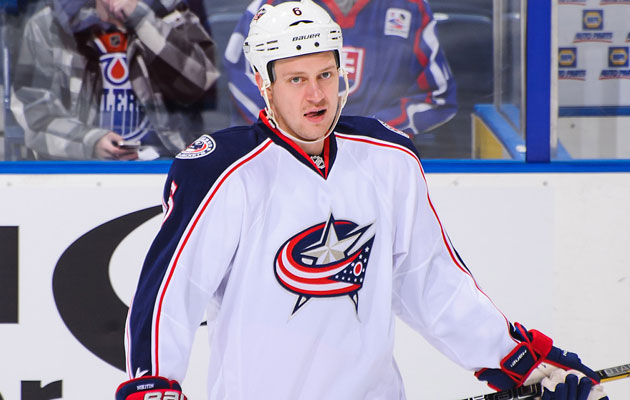 More NHL: Scores | Standings | League Leaders | Odds | Injuries | Power Rankings
Columbus Blue Jackets defenseman Nikita Nikitin is in a pretty comfortable position. He's not the only Russian player on his team, he has a few comrades in Artem Anisimov, Sergei Bobrovsky and Fedor Tyutin.
This is good news for him as Nikitin doesn't really have an interest in (either that or he just struggles with) learning English. He has help around him that lets him get by just fine.
Here's what he told R-Sport, obviously in Russian:
Nikita Nikitin, a defenseman playing for the Columbus Blue Jackets  of the National Hockey League, has told R-Sport he refuses to learn English as he can always rely on fellow Russian teammates.

Nikitin has played in the NHL since 2010 but admitted -- in Russian -- that "my English isn't getting any better."

Russians in the NHL are regularly criticized for their perceived failure to adapt.

"You always hear Russian in the team, although because of that I should admit I don't learn English," he said. "I understand everything I need to, but I can still only speak with difficulty. But there are always guys around who give me prompts."
That probably doesn't do a ton for any team-bonding but probably isn't that big of an issues, especially since Nikitin says he understands what he needs to understand. Though I wonder if that limited English vocabular includes the words "bag skate." That would be a handy phrase to not know.
You wonder though if this will ever be an issue for Nikitin. Not every team has as many Russian players as the Blue Jackets, there are several that don't have any. If he were traded to the Rangers, for example (since the Rangers and Jackets just love doing deals with each other), he'd be the lone Russian around. It could get a lot more difficult at that point. Potentially, it could simply cut down the number of teams that would have him if that assimilation factor were missing.
This isn't a criticism of Nikitin, if he is in a position where he can get by just fine with little knowledge of English, more power to him. You just wonder if it ever does become an issue, you never know where your career might take you.
Nikitin, 27, was a fifth-round pick by the Blues in 2004. He was traded to Columbus in 2011. In 24 games this season he has a goal and five assists while averaging 17:05 ice time per game.
S/t Kukla's Korner
Show Comments
Hide Comments
For first time since 2005-06, Edmonton is headed for a Stanley Cup run

With loss to Hurricanes, Detroit eliminated from postseason contention for first time since...

Flames-Capitals would pit underdogs vs. title favorites, while Pens-Oilers would showcase elite...
The Ducks are outshining their Pacific competition, while the Habs and Predators offer lots...

Big losses by the Sharks and Blackhawks have Washington back on top

On day he signs entry-level deal with Canucks, Boeser scores Vancouver's third goal in 4-2...