Bobby Ryan has sports hernia surgery, done for season
Bobby Ryan has had a quiet second half, now we have a good idea why. The Senators forward suffered an injury early this season that will require sports hernia surgery.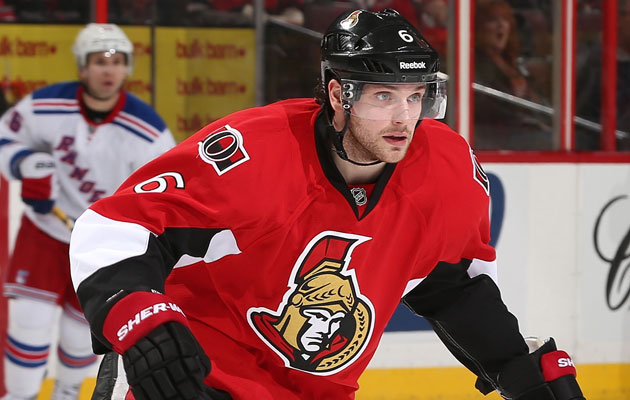 More NHL: Trades | Scores | Standings | League Leaders | Odds  | Power Rankings
On Thursday the Ottawa Senators announced that Bobby Ryan's season is officially over. The forward is going to need to have sports hernia surgery on his back.
At this point, sitting the remainder of the season isn't a huge deal. The Senators are out of the playoff race and there are only a couple of weeks left. It won't make any difference on their fortunes this season.
But the injury itself? Well yes, that might have had an impact. This isn't something that just popped up as GM Bryan Murray explained.
He got hurt early on and tried to play through it. He felt it handicapped him a little as far as shooting the puck in particular was concerned. Then he had a couple of incidents where things cropped up. Going into the boards the way he did in Dallas was a time we had to decide with him that it was best to stop playing for a bit and get it repaired and give him a chance. I think if we were still in a real serious, serious position here we could maybe get another game or two out of him but it doesn't make a lot of sense at this point in time to continue playing when you're hurt.
Huh, so maybe Ryan could spell intensity this whole time, it was comfort that was not in his vocabulary.
Seriously, though, it helps answer the question of "what happened to Bobby Ryan this season?" Since the start of 2014 Ryan has only five goals seven assists in 28 games to his credit, not exactly what the Senators were counting on from him this season. It could certainly also help explain why Ryan wasn't looking so great leading up to the Olympics and into his not being selected for Team USA.
The timeline for a recovery isn't that long for Ryan's surgery, he should be back up to speed in the summer time and shouldn't carry over at all into next season.
Show Comments
Hide Comments
St. Louis connects on one of five power plays to beat Nashville and tie the series

Series schedules, results and updates from the second round of the Stanley Cup race

Ottawa's defense came up big in Game 1 to beat New York, and the Penguins beat the Capitals...
Subban had three points in Nashville's 4-3 win over St. Louis in Game 1, while Edmonton dropped...

Washington and Pittsburgh figure to go neck and neck, as do Anaheim and Edmonton

Cassidy went 18-8-1 after replacing Claude Julien in 2016-17