Brad Richards getting a look as winger on Rangers' top line
From being an amnesty buyout candidate to starting the season on the Rangers' top line at wing? That could be the case for Brad Richards.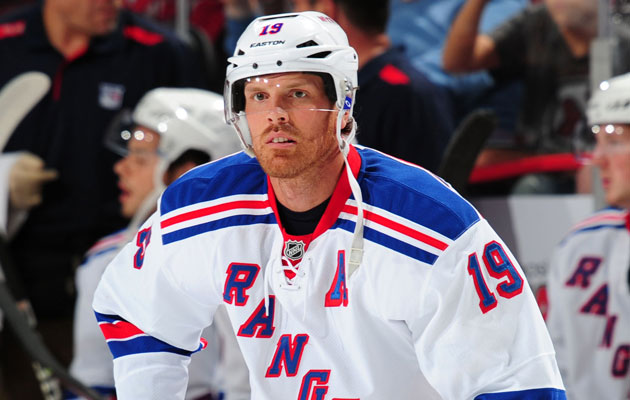 NHL previews: Atlantic Division | Metropolitan Division | Central Division | Pacific Division
Over the summer the Rangers had a lot of deliberating to do about the future of Brad Richards and the prospect of using an amnesty buyout to get out from under his contract. GM Glen Sather elected not to go that route and instead hung on to Richards.
Now he's playing on the Rangers' top line.
Richards, who was a healthy scratch in the playoffs last season, part of an overall disappointing campaign for he and the Rangers, is taking a break from center and as a result is getting a run with top-liners Rick Nash and Derek Stepan by playing on the wing, a move partly necessitated by injuries to Carl Hagelin and Ryan Callahan. From Pat Leonard of the New York Daily News:
At practice in Greenburgh, Vigneault practiced Richards on the left wing of center Derek Stepan, who the coach said "looked real good" in his first practice since re-signing on Thursday. Rick Nash will play right wing on that line, though he did not practice Sunday after taking a shot off his foot in Friday's preseason finale in Las Vegas.

"We've still got two guys out, and you've got three centers (Richards, Stepan and Derick Brassard) that want to play in offensive situations," said Richards, who played wing on occasion in Tampa Bay and Dallas. "I'm playing with Rick and Step, so hopefully we can get something going. If it works, that means we're staying, and if we're staying, that means it's working."
That's quite the deduction from Richards there, huh?
His familiarity of the transitive property aside, it's an interesting opportunity for a player in need of a big season. As Leondard notes, Richards has played on the wing before so it's not completely foreign territory and playing with two scorers like Nash and Stepan would give Richards a great chance to make a positive impression on new coach Alain Vigneault in games that actually matter.
Richards wasn't terrible in the regular season last year, picking up 11 goals with 23 assists in 46 games, averaging a shade less than 19 minutes per game. Still, as the season went on his role diminished, specifically in the playoffs when he had just one goal in 10 games, ending the season on a sour note and leading to the buyout debate. The top line is a far ways removed from that.
Hagelin is likely to miss the first couple of weeks of the season as he continues rehab after offseason shoulder surgery. He would normally occupy that top-line wing spot that Richards will apparently get a shot at.
Show Comments
Hide Comments
Ottawa's defense came up big in Game 1 to beat New York, and the Penguins beat the Capitals...

Series schedules, results and updates from the second round of the Stanley Cup race

Subban had three points in Nashville's 4-3 win over St. Louis in Game 1, while Edmonton dropped...
Washington and Pittsburgh figure to go neck and neck, as do Anaheim and Edmonton

Cassidy went 18-8-1 after replacing Claude Julien in 2016-17

With the playoff field cut in half, the stakes keep getting raised