Braden Holtby's playoff magic is back in Caps' Game 1 win
Braden Holtby wasn't just the best goaliein Game 1 on Thursday in DC, he was the best player and the biggest reason the Capitals are up.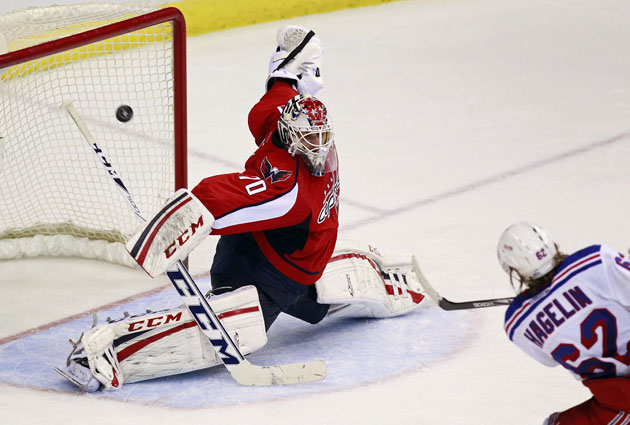 More NHL Playoffs: Scores | TV Schedule | Expert Picks | Odds | Mock Draft | Rumors
WASHINGTON -- On Thursday night in Washington, a kid outdueled the King.
When looking at the series between the Rangers and Capitals on paper, you had to give the advantage to the Rangers in at least on department; goaltending. That speaks a lot more to Henrik Lundqvist's prowess than to any ineptitude of Braden Holtby. There are very few teams that can claim an advantage over the Rangers in goal.
More on Rangers-Capitals
Related links
But on this night, in Game 1 of this series, the Capitals could say it; they had the advantage. The rode that to a 3-1 win and a 1-0 lead to open the series in this 3-6 matchup.
In the early going it didn't seem like it was going to trend that way, that Holtby would be the better goaltender. In the opening 10 minutes the Capitals rushed out to a 12-2 shot advantage that included a clean breakaway. Lundqvist stopped them all. It was the Rangers who actually struck first, a shot getting by Holtby that didn't directly come off a Rangers stick but instead defenseman John Erskine's skate.
"It was just a lucky break off Ersky's skate," Holtby said. "Sometimes if they're in tight they get those bounces, there's nothing you can do about it. It's almost easier to bounce back from."
That was the only time you could say Holtby was beat. You could say it a few times later about Lundqvist.
After keeping the Rangers in the game, he helped put the Ranger in a hole. The first strike belonged to Alex Ovechkin on the power play. It was a big bounce off the end board right to him, not much Lundqvist could do. But the second and especially third goals, 46 seconds apart? A soft shot on net by Jason Chimera from nearly the bench isn't supposed to beat Lundqvist.
"I have to be more solid on the ice there," Lundqvist said. "I probably expected a pass and maybe I was a little slow to react but it doesn't matter, I have to stop that. It was just those couple minutes there [in the second] where they hurt us a little bit, a couple big plays for them and if you take away those five to 10 minutes, we played a pretty strong game."
Unfortunately for him, those few minutes don't go away. He knows could have done better. The Rangers rely on better. And, undoutbedly, he will be better as this series goes along.
The Capitals got better.
It's not as if this should be a massive surprise, though. We've seen this play from Holtby before. We've seen this play from Holtby this season. The Caps' young goalie has received nowhere near the attention he deserves for this team's second-half success. Despite Washington being outshot on most nights, the Caps kept winning. Holtby finished this season with a .920 save percentage. If you didn't know, that's not bad.
More than that, though, Holtby has done this on the playoff stage, playing his best hockey. Playing better than he has been is really saying something, but he has done it and he did it again on Thursday night. Is there just something about the postseason?
"It's all about your team when it comes to the playoffs," Holtby said. "A goaltender's stats are all team stats. We played great last year defensively and we're off to a good start."
Remember last postseason, when injuries to both Tomas Vokoun and Michal Neuvirth pressed the young Holtby into action. He took that opportunity and ran with it, hands down being the best Capitals player in the playoffs. In 14 games he had a .935 save percentage and a 1.95 goals against average.
"We've been confident in Holts since Day 1, since he stepped into the playoffs last year and was huge," Caps forward Joel Ward said. "He's a great 'tender, he plays the puck well. He's been our go-to guy all year, he's been our backbone. We have a lot of confidence in him to step up and he does that every game as he proved tonight."
Point is, this is not virgin territory for him, Holtby has shown this playoff magic before.
At times that's exactly what it looked like, magic. In the final minutes with the Rangers trying to get back into the game, Holtby seemingly made the puck disappear out of thin air. It seemed destined for the twine until it somehow never went in and instead ended up in Holtby's glove behind his back. Seeing the play, you figured there was no way the puck didn't go in but you couldn't see it.
"It just kind of got caught and it got in the palm of my hand," Holtby said. "One of their guys yelled it was in but it was in my palm the whole time. I was wondering why the review took so long. It was the right call."
It went down as another save for Holtby. He finished with 35.
Braden Holtby being not only the best goaltender on the ice but the best player is not necessarily something you expect to hear, but maybe we should get used to it because it was certainly the case on Thursday night. Seeing how in control he was all night long, there's no reason to think he won't continue. In this series, the King might have a competitor for the crown.
Show Comments
Hide Comments
Series schedules, results and updates from the second round of the Stanley Cup race

Here's how to stay on top of all of the NHL's second-round playoff series, which begin Wed...

Series schedules, results and updates from the first round of the Stanley Cup race
Ottawa took a 3-2 decision to send Boston home, and Washington outlasted Toronto, 2-1

Stevens was L.A.'s interim coach for four games in the 2011-12 season

St. Louis, New York and Edmonton eked out victories that eliminated Minnesota, Montreal and...