Brand new Wayne Gretzky statue in his hometown defaced
A statue of Wayne Gretzky unveiled on Sunday in his hometown of Brantford, Ontario was struck by vandals on Monday night. Somebody call Marty McSorely.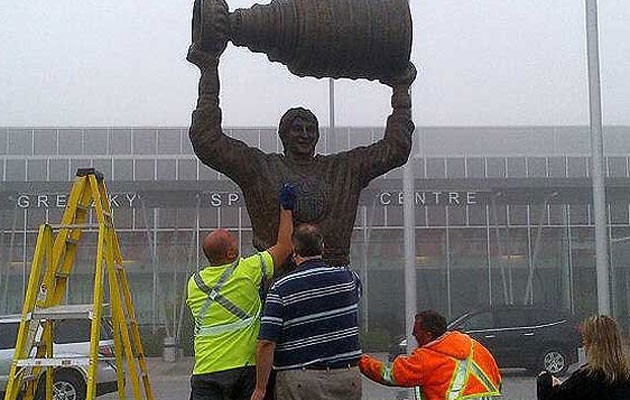 NHL previews: Atlantic Division | Metropolitan Division | Central Division | Pacific Division
On Sunday, a statue was unveiled of Wayne Gretzky in the Great One's hometown of Brantford, Ontario, outside the new Wayne Gretzky Sports Centre. On Monday night it was vandalized.
Yes, somebody had the gall to deface a brand new statue of Gretzky in his hometown where the man is presumably close to a god, or royalty at least. Canoe.ca has a little more detail:
City workers were out Tuesday morning, scrubbing paint from a pair of bronze monuments -- one of a young Gretzky in a hockey jersey, flanked by his parents, Walter and Phyllis, and another of him holding the Stanley Cup over his head.
The nerve. Whoever did this better hope they're never discovered or else they'll be getting a visit from Marty McSorley. He makes sure nobody messes with Wayne.
Show Comments
Hide Comments
Our Latest Stories
Flames-Capitals would pit underdogs vs. title favorites, while Pens-Oilers would showcase elite...

The Ducks are outshining their Pacific competition, while the Habs and Predators offer lots...

Big losses by the Sharks and Blackhawks have Washington back on top
On day he signs entry-level deal with Canucks, Boeser scores Vancouver's third goal in 4-2...

The Penguins' leader in highlight reels has been extra feisty on some cringe-worthy cheap shots...

2017 SAHP NHL Global Series will pit Ottawa and Colorado against each other in Stockholm