Brendan Shanahan named president of Maple Leafs
Brendan Shanahan has agreed to take a role in the Maple Leafs front office, leaving the NHL Department of Player Safety after three seasons.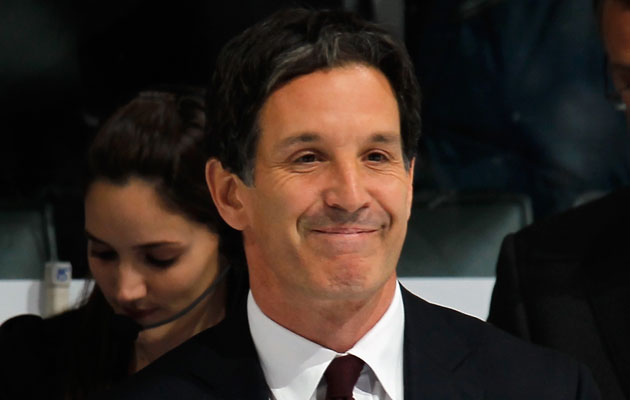 More NHL: Trades | Scores | Standings | League Leaders | Odds  | Power Rankings
After three seasons running the NHL's Department of Player Safety, Brendan Shanahan is moving along to join the Toronto Maple Leafs front office. The team announced Shanahan will take on the role of president and alternate governor effective immediately.
This might not be the best news Maple Leafs GM Dave Nonis has heard this season. Any time you get a new boss there is some cause for concern, usually it's because the direction of the team isn't what ownership wants to see. Whether it's bad news for Nonis, coach Randy Carlyle and everybody else or not, it does at least mean there are probably going to be some changes coming. Maybe many changes.
Can confirm @DamoSpin report of Brendan Shanahan's hiring by the #leafs. The first of many organizational changes to come.

— Chris Johnston (@reporterchris) April 10, 2014
Considering the collapse the Leafs had down the stretch to miss the playoffs and their heavily criticized style of play proving in the end to not be successful, it's understandable. New MLSE CEO Tim Leiweke wants to build a winner and this season was a step back.
For Shanahan this will be his first foray into the team management side of things but since retiring he has remained heavily involved in the NHL, most recently serving as the discipline chief and instituting a new, transparent process to discipline. He has changed the role for the better in many ways in his relatively short time on the job after replacing Colin Campbell.
He never played for the Maple Leafs in his long and successful NHL career but he's from nearby Mimico. Plus, with the pressure he faces in his role with every single one of his suspension decisions being scrutinized at every turn, he should be plenty accustomed to the spotlight he's about to face in Toronto.
In that role in the NHL offices it will be interesting to see if he is succeeded by Brian Leetch, who joined the Department of Player Safety beneath Shanahan along with Brian Burke's son Patrick before this season.
Show Comments
Hide Comments
The Predators are riding an opportunistic defense and superb goalie, while the Pens boast elite...

Washington and Toronto set to face off March 3 in Annapolis

"Let's go, Preds!" chants take on a whole new meaning in the hype piece
Both Stanley Cup Final contenders cracked the list of top 10 teams searched in 2016-17

The Preds will need more from their blue-line depth, and Pittsburgh has to capitalize in s...

Vince Gill, Carrie Underwood, Lady Antebellum and Luke Bryan have apparently upstaged a hometown...