Brian Burke hired as Director of Hockey Operations by Flames
The Flames announced that Brian Burke is joining their franchise as the Director of Hockey Operations. GM Jay Feaster will report to him.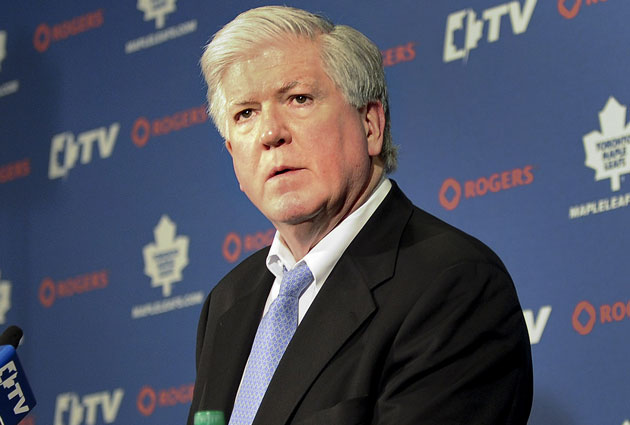 More NHL offseason: Rumors | Top 50 Free Agents | Buyout Tracker | Trades | Transactions
Bian Burke is back to a major role in the NHL.
After speculation ran wild on Wednesday night that Burke was going to Calgary to assume a role with the franchise, the team announced it on Thursday. Burke is stepping into the newly created role in Calgary of Director of Hockey Operations where he will oversee the Flames and GM Jay Feaster will report directly to Burke.
"It's a very proud day for me," Burke said. "I couldn't be more pleased to be here today."
With a significant role Burke is taking, you better believe Feaster is going to feel the heat under his seat starting now. Burke is a guy who has gone into places and called the shots in terms of team-building, leading as the GM.
Still, Burke wanted to make it clear he's not going to be the general manager, that will be Feaster's position.
"I'm not the general manager of the Calgary Flames. Jay Feaster is," Burke explained. "He is going to be in charge but with my guidance."
"To be able to bring in someone who has won a Stanley Cup, it's a great thing," Feaster said. "We want his information."
He was in that role in Toronto before patience ran thin and he was dismissed, just before the fruits of his labor started to become clear and the Maple Leafs finally made the playoffs. Since then he has been back in the Anaheim organization working in a lesser front-office role waiting for another opportunity (that wasn't from Rugby Canada).
If nothing else this will add some juice back to the Battle of Alberta with Burke in Calgary and Kevin Lowe in Edmonton. You might remember those two had quite the spat many years ago when Lowe signed Burke's player Dustin Penner to an offer sheet. Eventually it went so far as Burke to challenge Lowe to a barn fight. It would be more symbolic than anything, but some hate would be back in the rivalry.
Show Comments
Hide Comments
Our Latest Stories
Bovada sets the number for trades; will Kevin Shattenkirk and Gabriel Landeskog be among t...

Another pre-deadline trade goes down, and this time it's for some late-season offense

Three of the last 10 Stanley Cup winners welcomed new coaches during their championship se...
Pittsburgh gets the help it desperately needs, while Carolina keeps stockpiling future tal...

Aramark, Heinz Field's food provider, is featuring a face-off of city-inspired dishes for Saturday's...

Once the most favored potential Stanley Cup winner, Chicago has fallen behind Washington,...