Brian Leetch, Patrick Burke join NHL Department of Player Safety
With Rob Blake returning to LA, the Department of Player Safety had a spot to fill. They added two people in Brian Leetch and Patrick Burke.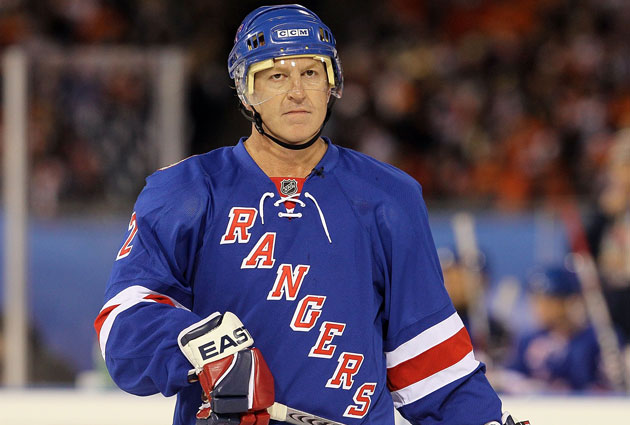 More NHL offseason: Rumors | Top 50 Free Agents | Buyout Tracker | Trades | Transactions
Brendan Shanahan's Department of Player Safety lost one valuable person earlier this summer when Rob Blake left to join the Kings' front office so on Thursday Blake was replaced with not one but two people.
Rangers great Brian Leetch will be joining the department as well as Patrick Burke, the NHL announced on Thursday.
"Brian Leetch and Patrick Burke are two astute members of the hockey community who will bring unique perspectives and personal experiences to the Department of Player Safety," Shanahan said. "As one of the greatest defensemen in NHL history, Brian displayed a rare sense of the game and its nuances that will be a tremendous asset to our department's efforts to make the game safer for our players while maintaining its physicality and passion. The ability to evaluate players that Patrick refined as a pro and amateur scout will be invaluable to the team that monitors games each night to both identify incidents that might merit Supplemental Discipline and to note developing trends in our game."
Leetch has been working with Rangers television coverage in recent seasons so he will be leaving the booth to go on the other side and join the supplemental discipline discussion instead. Having been around in the NHL for a long time, he has seen a lot and has a lot of experience to bring to the table.
Burke, the sone of Brian Burke, stepped down earlier this week as the head of the You Can Play Project, an organization he helped found in honor of his brother to help rid sports of homophobia. In addition to that he has experience in hockey, serving as an amateur scout for the Flyers the past seven years.
It should also be noted that Brian Burke used to be the head of the discipline department in the NHL.
Show Comments
Hide Comments
Bill Foley said 'there were a lot better ways to spend $750 million' than to bring the NFL...

The NHL reverses course and wisely opts for transparency in what should be a huge off-season...

For first time since 2005-06, Edmonton is headed for a Stanley Cup run
With loss to Hurricanes, Detroit eliminated from postseason contention for first time since...

Flames-Capitals would pit underdogs vs. title favorites, while Pens-Oilers would showcase elite...

The Ducks are outshining their Pacific competition, while the Habs and Predators offer lots...