Can Kings ride offensive surge in Sochi to strong stretch run?
Kings players had a very strong showing in the Olympics after being unable to score for LA before the Games. Will the Sochi outburst propel them to what they're capable of?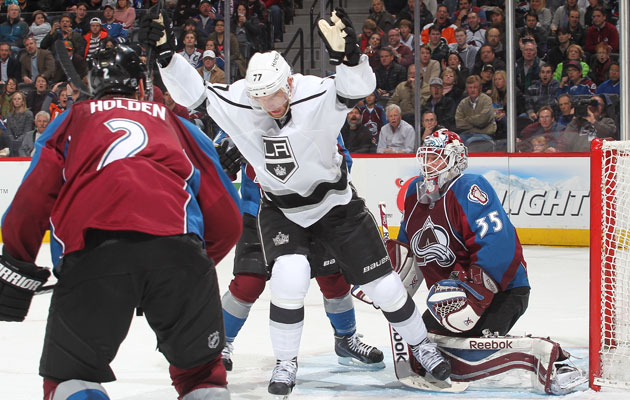 More NHL: Scores | Standings | League Leaders | Odds | Injuries | Power Rankings
When it came to the Olympic break there were some teams that wanted nothing to do with it, some who were happy to see it and there are a couple of teams that really needed it. The Los Angeles Kings are in that latter group.
Going into the break the Kings were one of the league's more confounding teams. Given that this team looked so strong two years ago on the way to a Stanley Cup title and has remained virtually the same, it was tough to figure out their goal-scoring slump that led to a 6-14-2 record before Sochi. The Kings have not been huge scorers in recent years but their slumps haven't been quite so long or pronounced.
It was easy to simply say, "the Kings need more offense." It's why they have been presumed for a while to be on the lookout for a scoring forward at the trade deadline, with Matt Moulson's name coming up a few times.
But offensive talent hasn't really been the issue for the Kings. They are clearly blessed with some pretty skilled players at every position on the ice. It is going to take more than just adding another good scorer as a cog in the system.
Which brings us back to the Olympics. It was in Sochi that Kings players busted out and collectively had a tremendous tournament. If you hadn't watched a second of the NHL but watched all the Olympic games, you would guess the Kings were a dynamite offensive team, a real juggernaut.
Consider the numbers their players had in Sochi. Drew Doughty was arguably the most impressive defenseman in Sochi, with four goals and two assists in six games. He, along with Shea Weber, was Canada's leading scorer. Jeff Carter wasn't far behind with three goals and two assists. No player had more shots on net in Sochi than Carter. Then there was Slovenian star Anze Kopitar looking so strong for his tiny nation. He had two goals and an assist in five games but was impossible to miss when he was on the ice.
Dustin Brown didn't have the best tournament of the Kings players in Sochi but he still ended up with two goals and an assist for Team USA. The most notable Kings player for Team USA was Jonathan Quick, who looked like he was in his old playoff form for the American team. Slava Voynov wasn't especially great for Russia either, but not many were.
All in all, that's a lot of production from a few of LA's top players against stiff competition and in a tournament where on the whole, scoring was very difficult to come by. Combined they had 11 goals out of four players in the Olympics. The Kings had 11 goals in the nine games leading into the Olympic break.
As much as anything else, maybe all the Kings needed was the break and a little bit of confidence. They returned to NHL play with a vengeance Wednesday night, winning 6-4 in Colorado. Three of those six goals came from Olympians (two from Kopitar, one from Carter).
It's only one game and that's a very small sample size to draw from, but the Kings were never quite as bad as they were looking from a raw numbers standpoint. They couldn't score but they have remained one of the NHL's best possession teams. But they have been held to an awfully low shooting percentage, a league-worst 5.1 percent. Under Darryl Sutter the Kings have routinely had lower-than-average shooting percentages but even that is too low to last. A rebound seems inevitable.
But it doesn't hurt that perhaps the Olympics were the boot to the butt the offense could use because if nothing it proved the Kings are too talented to struggle to score two goals in a game.
None of this is to say that GM Dean Lombardi should give up on the pursuit of another scorer because of course you can never have enough scorers, especially when you have the defense and goaltending the Kings can fall back on.
After seeing Team Canada dominate the competition through the elimination rounds in Sochi, coaches have drawn inspiration. A few told their teams to look at how Canada played in the Olympics and do that. Truly inspired coaching stuff there, and deep. The biggest problem with that simple teaching tool is that most NHL teams don't have the personnel to come close to playing the way Canada did, with tremendous defense and excellent puck possession. The Kings are one of a couple of teams that might have a hope of taking the Canadian approach (maybe a testament to how good Doughty truly is).
Maybe Sutter and crew can deliver a similar yet different message to the Kings -- play like you did in the Olympics. If they can and if the rest of the team catches on after getting a midseason refresher, the sky is again the limit for LA.
Show Comments
Hide Comments
Our Latest Stories
On day he signs entry-level deal with Canucks, Boeser scores Vancouver's third goal in 4-2...

The Penguins' leader in highlight reels has been extra feisty on some cringe-worthy cheap shots...

2017 SAHP NHL Global Series will pit Ottawa and Colorado against each other in Stockholm
Finland has churned out some winners in a league filled to the brim with diverse players

From the Caps' goaltender to the star-studded headlining duo of Chicago's offense, these guys...

Scoring his 41st goal of the year in a 3-1 win over the Buffalo Sabres, the Pittsburgh Penguins...