Can the Minnesota Wild avoid another late-season collapse?
The Minnesota Wild need to start getting some wins to avoid another late-season collapse in the playoff race.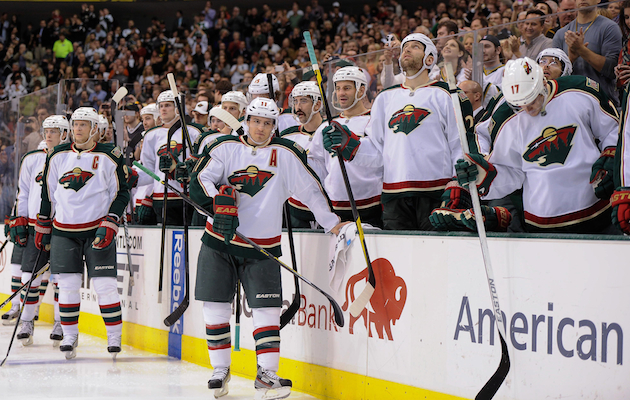 More NHL: Scores | Standings | Odds | Fight-O-Meter | League Leaders | Rumors
When the Minnesota Wild and Columbus Blue Jackets face off on Saturday night, it's going to be a game that features teams that have been going in completely different directions over the past couple of weeks.
And it could be a pivotal game in the Western Conference playoff race.
The Blue Jackets are still riding the Sergei Bobrovsky wave back into playoff contention (a run that was aided at the trade deadline by the acquisition of Marian Gaborik) and are one of the five teams separated by just three points in the 7-12 spots in the West.
The Wild, currently occupying the No. 7 seed, are one of the others. But they enter Saturday's game having lost six of their past eight games, going from a top-three seed in the conference just two weeks ago to the playoff bubble.
A win by the Wild in regulation would give them a five-point cushion over Columbus with just two weeks to play in the season, which would be a huge gap. Especially with a game still in hand. But a regulation loss closes the gap to just a single point. And with teams like Detroit, Dallas and Phoenix still right there with them, there's very little margin for error. An extended slump  -- like the one they're mired in -- could be devastating.
It has to be at least a little bit of deja vu for Wild fans. It was at this point last season (around the 30-game mark) where everything started to fall apart.
After 30 games last season, Minnesota had the best record in the NHL at 20-7-3 and looked to be on their way to the playoffs for the first time since the 2007-08 season. Even with the impressive record, there were questions about how good they really were (they had a major puck-possession problem that finally caught up to them, not to mention some injury issues along the way) and ended up winning just 15 of their final 52 games.
They responded in the offseason by going all in during free agency by signing Zach Parise and Ryan Suter. There's no doubt they're a better team than they were a year ago. They're better not only because of the free-agent additions, but also because of young players like Jonas Brodin (he should be a Calder Trophy candidate) and Charlie Coyle. They still have some of the same possession issues that plagued them last season (and in previous seasons) and are near the bottom of the league in several possession metrics. That would give me cause for concern going into the playoffs and for them to even make the playoffs if we were dealing with an 82-game schedule.
But thanks to the lockout, the Wild only need to hang on to their spot for another two weeks, and the schedule is certainly in their favor. Only two of their remaining eight games (including Saturday against Columbus) are against teams currently occupying a playoff spot -- April 18 at San Jose and April 23 against the Los Angeles Kings. The remaining games are against Columbus on Saturday, and then five games with teams that are headed toward the draft lottery -- two with Calgary, two with Edmonton, and one with Colorado.
That's five games against three of the worst teams in the conference to end the season.
The ball is in their court, and the playoff spot is there for the taking. But sooner or later (preferably sooner), they have to start putting some wins together here down the stretch. Saturday night against Columbus would be a nice time to get one.
Pittsburgh also has been linked to Matt Duchene and could be in the mix for Tyler Bozak

Nashville extends its 24-year-old restricted free agent with what could be bargain numbers

Calgary forward is all for playing for the Flames, but he also likes the idea of going to...
Plans for renovating KeyArena are now also being overseen by NHL-to-Seattle hopefuls

With Leslie Anderson selling the Rockets, there is newfound hope for hockey in Houston

Pittsburgh Penguins' repeat Conn Smythe Trophy winner has more than hockey on his athletic...