Canada Olympic hockey team: The all-snub team could compete too
Team Canada's Olympic hockey roster is excellent and that's without guys like Claude Giroux, Joe Thornton, Martin St. Louis or Brent Seabrook, who were 'snubbed.'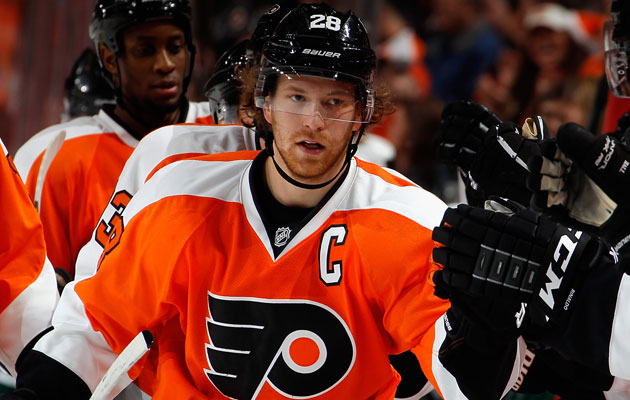 More NHL: Scores | Standings | League Leaders | Odds | Injuries | Power Rankings
The brain trust overseeing Hockey Canada has an extremely difficult job. No nation has anywhere near the elite depth that Canada does and trying to pick only 25 players to fill out the Olympic team is not an easy job.
Frankly, it's impossible to make a roster without the snub list being a mile long, there are that many good players. If Canada could field two separate teams in the Games, it's possible they would both be gold medal candidates.
So with that in mind, you have seen who did make Canada's team but what about the guys that didn't?
Claude Giroux : It's almost embarrassing how much talent the Canadians have down the middle, making it tough for Giroux to find a spot on the lineup. Still, many predictions on Canada's roster pegged Giroux in for a spot as it was just two seasons ago that he had 93 points in 77 games. This season he has 38 points in 42 games, definitely nothing to scoff at. But the question is who goes to fit Giroux on the team? That's Canada's dilemma and obviously there was no answer.
Joe Thornton Jumbo Joe is in the same boat as Giroux in that he is undoubtedly deserving of a spot on the team, it's just there isn't really a spot for him to fit. There is arguably no better play-making center on the Canadian roster as Thornton is once again leading the NHL in assists with 43 to his credit already with the Sharks. But Thornton's omission, while tough, isn't surprising. If he's not going to fit in at center, he's certainly not the kind of player who will transition to wing very well on the big ice. He just got squeezed out, the reality of being Canadian.
Eric Staal : Really, it's just not good to be a centerman if you're Canadian because there are only so many spots and too many guys to fill them. Staal has represented his nation often but with everybody healthy, there wasn't much room for him this season on the roster. It doesn't help his case that he started the year slowly and hasn't quite been up to his career numbers thus far (not that he's fallen off a cliff either).
Tyler Seguin : Seguin has really taken off this season in Dallas, part of the reason why Jamie Benn has been spectacular enough to make the Canadian team. While he's playing at his natural center position now for Dallas, he played on the wings in Boston before his trade so he could fit in almost anywhere. His 21 goals this season are good enough for eighth most in the league, sixth among Canadian players. But it's not really clear how much in consideration Seguin ever really was, he had a lot of ground to make up coming into the season.
Martin St. Louis : Steve Yzerman is the GM of the Lightning, one thing seemingly working in the favor of St. Louis. Oh, and he's still quite the scorer, winning the Art Ross Trophy last season and he brings a leadership and veteran presence with him. Still, the diminutive winger didn't quite make the cut, but if his Tampa Bay teammate Steven Stamkos can't go, he might be the first to get the call to fill his spot. His game would translate very well to the big ice.
Logan Couture : One Sharks winger made the team but it wasn't Couture. Looking at the numbers that's justified as Marleau has been a little more productive than Couture this season, but Couture has been heating up lately to make a late charge. Still, he's young and will be in the picture for Team Canada down the line.
Taylor Hall : It seemed like from the beginning that Hall was chasing a spot on the roster that likely wasn't going to come. He remains one of the few bright spots for the young Oilers team as he has been better than a point-per-game player this season with 41 in 38 games. There are questions of his overall game, though, and that's why he flirted some with center earlier this season to try and improve in that area. It wasn't enough for Canada.
James Neal : Chris Kunitz made the team and while the decision makers said he would make it on his own merit and not just because he plays with Sidney Crosby in Pittsburgh, it's tough to completely accept that. But built-in chemistry is important when you have such little time to prepare. But Neal and Crosby have some of that chemistry too and Neal is really having a dynamite season. The Real Deal has only played 24 games but has 16 goals and 18 assists. He's a pure goal scorer and had a legit argument to make the squad.
Brent Seabrook : Speaking of that built-in chemistry, that can be particularly important for the defensemen and considering Duncan Keith made the team, Seabrook seemed like a pretty strong candidate. It doesn't hurt that he's actually quite the defenseman himself, averaging nearly 22 minutes a night and posting 31 points so far this season in 45 games. But it's the same issue on D as it is up front: who do you remove? There was a lot of concern that P.K. Subban wouldn't make the team and if he could hardly find a spot, what do you do with Seabrook?
Dan Boyle : The Sharks apparently weren't all that popular among the Canadian officials. Boyle was there in 2010 representing Canada and hasn't lost much in his game despite the fact that he's 37 years old. He would certainly be a welcome addition to the bunch adding that veteran presence and such but it's in the new for Canada's blue line and while tough to take for Boyle, it's hard to argue against that.
Kris Letang : How crazy is Canada's depth? So crazy that Letang is barely even being mentioned as a snub. It's not all that hard to see why Letang didn't make the cut, as strong as he is offensively there are more than a couple questions about his defensive abilities and taking chances on the big ice isn't always a great idea.
Marc-Andre Fleury / Corey Crawford /Josh Harding: When you get down to arguing over the third goalie, it's kind of pointless as that position is unlikely to play at all. But still the decision to take Mike Smith over Fleury or Crawford is at least one worth of discussion. That's not to say it's a wrong decision, but just that Canada didn't have a clear-cut choice for a third goalie.
There are certainly other players who were snubbed from the snub list as well. Canada has more depth than it knows what to do with.
Show Comments
Hide Comments
Series schedules, results and updates from the second round of the Stanley Cup race

Subban had three points in Nashville's 4-3 win over St. Louis in Game 1, while Edmonton dropped...

Washington and Pittsburgh figure to go neck and neck, as do Anaheim and Edmonton
Cassidy went 18-8-1 after replacing Claude Julien in 2016-17

With the playoff field cut in half, the stakes keep getting raised

Green has led Vancouver's AHL affiliate since 2013