Canucks GM explains plan in letter to fans: We're looking to retool
The Canucks turned some heads with their moves last week before the trade deadline so on Monday GM Mike Gillis sent a letter to ticket holders saying they're looking to 'retool.'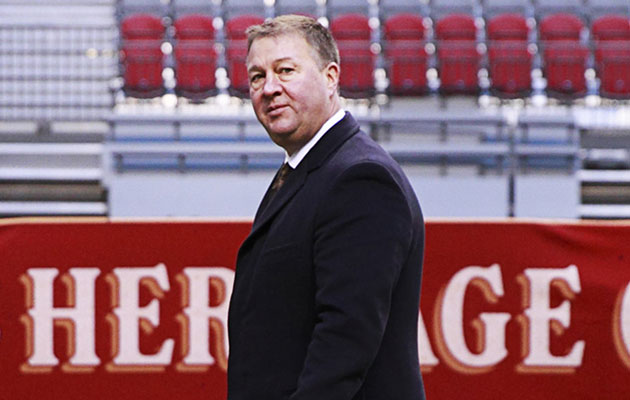 More NHL: Trades | Scores | Standings | League Leaders | Odds  | Power Rankings
The questions surrounding the Vancouver Canucks in the last couple of weeks have been plentiful. Chief among them surrounded GM Mike Gillis and what he did in the trade market.
The Roberto Luongo deal with Florida was the big one and raised the most questions as they went from having both he and Cory Schneider to having neither of them in the span of less than a year. There was also all the chatter about Ryan Kesler that didn't yield a deal.
Particularly with the Canucks trending down and outside of the playoff picture, fans in Vancouver haven't been too pleased and were curious as to where the franchise was headed. To answer those questions, Gillis sent out a letter to season-ticket holders on Monday explaining their thinking.
One fan shared the letter with Mark Spector of Sportsnet. The highlights:
Our mission remains the same: to win the Stanley Cup. Last summer we said we had to make some changes to our team. We need to get younger, faster and stronger to succeed. That process is happening now, as we look to retool by surrounding our veteran stars with new, young talent. You can look at Anaheim as a recent example of a team that has retooled successfully.

Trading Roberto was not an easy decision. We are grateful for his tremendous contribution to our team and city, and we wish him much success. But the moves we've made go beyond goaltending. We are now younger and we are getting deeper. We've added a big, strong 6'4" centre in Shawn Matthias, who is excited to be here and will help this team now. And we believe in our talented group of prospects, including Bo Horvat, Nicklas Jensen, Frank Corrado, Dane Fox, Brendan Gaunce and Hunter Shinkaruk, who will be part of our short and long-term success. We are also well positioned financially, having created over $5 million in cap room to make the right deals for this team. That's in addition to the $7 million we expect the salary cap to increase next season.

We approached the deadline with long-term success in mind. We were prepared to make a hockey deal on trade deadline day, not a short-term fix. The players offered at the deadline did not fit our vision of where we want our team to go. We need to get younger and more balanced to be more competitive, and we didn't see the right players to accomplish that goal. We are not willing to compromise our long-term vision for the sake of change.
Read between the lines and you can see the Canucks are going to try and be a big player in free agency, they're looking for the quick fix instead of the full-on tear down and build back up, that's why getting an NHL player like Matthias was important in a deal for Luongo.
Who knows if this will ease the concerns of Vancouver fans but at least it's good to know there is a plan to all the madness.
Show Comments
Hide Comments
Washington and Toronto set to face off March 3 in Annapolis

"Let's go, Preds!" chants take on a whole new meaning in the hype piece

Both Stanley Cup Final contenders cracked the list of top 10 teams searched in 2016-17
The Preds will need more from their blue-line depth, and Pittsburgh has to capitalize in s...

Vince Gill, Carrie Underwood, Lady Antebellum and Luke Bryan have apparently upstaged a hometown...

The 14-year NHL veteran joins the team with which he played three seasons from 2013-16