Canucks GM: 'Unlikely' Roberto Luongo returns; time to reset
Canucks GM Mike Gillis says it's unlikely Roberto Luongo will still be with the team by next fall and that the franchise needs to 'reset.'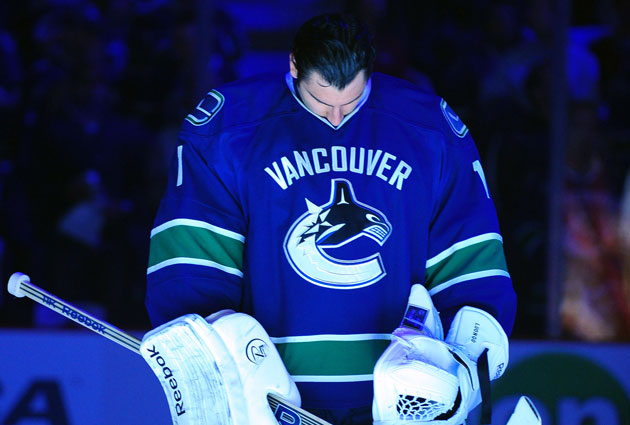 More NHL Playoffs: Scores | TV Schedule | Expert Picks | Odds | Mock Draft | Rumors
The Vancouver Canucks were swept right out of the playoffs by the San Jose Sharks, the second straight very quick and disappointing playoff exit in Vancouver. It's leading to some tougher questions for GM Mike Gillis and company.
The GM had his exit interview with the media on Thursday and was pretty candid about what needs to happen with the team going forward. A large part of what happens is based on the future of Roberto Luongo, who remains with the team a year after he more or less asked the Canucks for a ticket out of town to clear the way for Cory Schneider.
A deal never came to fruition despite the ongoing distraction it provided. So Gillis was asked again about Luongo's status in Vancouver. Will he still be on the team come the Fall?
"I think it's unlikely," Gillis responded.
We would say start the rumor mill up again, but it's never exactly stopped. Talks will continue until a resolution is reached.
It will be just one item on Gillis' offseason plate. The buzzword of Gillis' press conferences was "reset button."
"We're going to do a thorough review of everything in the organization," Gillis said. "Five years ago we reset. It's time to do it again. ... We have to get younger.
"Clearly, the landscape has changed and we have to address those changes going forward."
You can see that by the time next season comes around, the Canucks will look a bit different. They've had a similar core for a few seasons now, but that's destined for a shakeup. In addition to "reset" button talk, he also used words like "reinvent," "review" and "bold moves," all indicating a busy summer ahead.
As far as coach Alain Vigneault goes he, like the rest of the organization, will be reviewed in the coming days/weeks as the whole situation is evaluated from the coach to the 21st man on the roster.
The 45-year-old forward remains unsigned but has shown little desire to hang up the skates

Pittsburgh also has been linked to Matt Duchene and could be in the mix for Tyler Bozak

Nashville extends its 24-year-old restricted free agent with what could be bargain numbers
Calgary forward is all for playing for the Flames, but he also likes the idea of going to...

Plans for renovating KeyArena are now also being overseen by NHL-to-Seattle hopefuls

With Leslie Anderson selling the Rockets, there is newfound hope for hockey in Houston