Canucks' Luongo mocks Bruins' Thomas on Twitter after presidential election
From his "anonymous" Twitter account, the Canucks' Roberto Luongo had some fun at the expense of the Bruins' Tim Thomas after the Presidential election.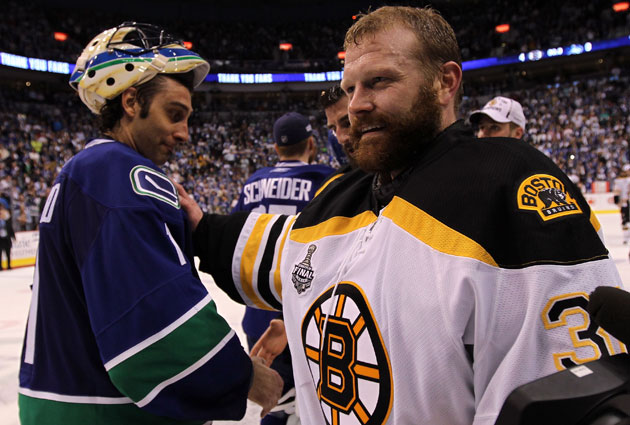 Luongo vs. Thomas: the greatest goalie semi-rivalry that won't go away. (Getty Images)
One of the things that made the 2011 Stanley Cup Final so great was the underlying storylines in a series that had great action on the ice. You had finger biting, hard hits, magical water bottles and, of course, dueling goaltenders.
Roberto Luongo chirped up a little (although very mild-mannered) after the Game 2 win by the Canucks in overtime, simply pointing out that his style is very different from that of Tim Thomas, who was well out of his net when the game-winning goal was scored. Thomas took it as an insult, and Luongo later responded by talking about pumping Tim Thomas' tires. All it was missing was a goalie fight on the ice.
One of the things that makes Twitter so great is having players like Luongo on it. Well, technically we don't know it's Luongo, but the secret is more than out of the bag that the Twitter account @strombone1 is none other than the Canucks' (for now) goaltender. The "anonymity" has led to him dropping the media act and being himself.
That includes continuing his mini feud with Thomas, even though the Bruins goalie is taking a sabbatical (well, every player is taking a sabbatical from the NHL at the moment).
Just in case you don't follow Luongo's needling, it's in reference to Thomas' multiple rants on his Facebook account, usually against the government, particularly the Democratic party, if you read between the lines (not hard to do). He elected to skip the team's feting from President Barack Obama and explained why on Facebook.
You can extrapolate from there that Tuesday's re-election of Obama to the presidency likely didn't have Thomas too pleased.
Ever since Luongo joined Twitter and his secret was found out, it has been pure entertainment for everybody who follows. I think it has made it tougher for Vancouver fans to prepare to say goodbye; all of a sudden everybody loves him again pretty much just for reasons like this.
Wouldn't it just be the best if these guys somehow ended up on the same team next season when (probably not if) Thomas returns? We can only hope.
H/t to Reddit
For more hockey news, rumors and analysis, follow @EyeOnHockey and @StubitsCBS on Twitter and like us on Facebook.
Show Comments
Hide Comments
Ottawa took a 3-2 decision to send Boston home

Series schedules, results and updates from the first round of the Stanley Cup race

Stevens was L.A.'s interim coach for four games in the 2011-12 season
St. Louis, New York and Edmonton eked out victories that eliminated Minnesota, Montreal and...

Fresh off the Predators' sweep of the Blackhawks, Gnash is fired up for his team

A tougher opponent awaits either Toronto or Washington, and the Bruins hung on to beat Ott...