Canucks trade Cory Schneider to Devils for No. 9 pick
The Vancouver Canucks traded Cory Schneider to the New Jersey Devils on Sunday for the No. 9 pick in the NHL Draft.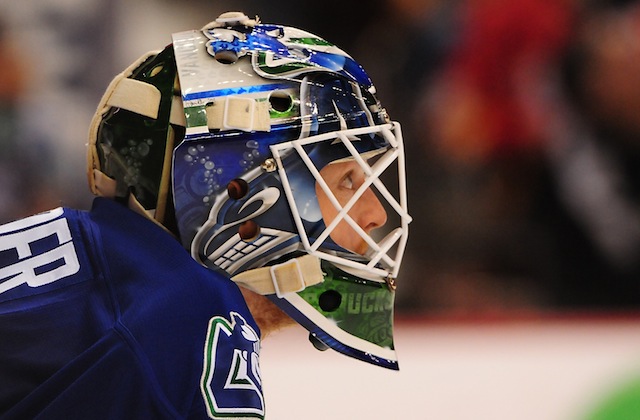 More NHL offseason: Rumors | Top 50 Free Agents | Top 50 Prospects | Mock Draft
The Vancouver Canucks finally traded a goalie, and it wasn't Roberto Luongo.
The Canucks traded Cory Schneider to the New Jersey Devils on Sunday for the No. 9 overall pick in the NHL Draft.
Vancouver used that pick on Bo Horvat from the London Knights of the Ontario Hockey League.
Schneider's name didn't start to surface in trade rumors until Saturday. The Canucks had been trying to trade Luongo for more than a year but were never able to complete a deal, due in large part to his massive contract few teams wanted to touch.
Plan B became trading Schneider, who is younger, cheaper, and would have easily been a more attractive target for another team.
Make no mistake, keeping Luongo is far from a bad thing for the Canucks. He's still an elite goalie and is going to give them quality play in net and they were able to get a top-10 pick for Schneider. Did they get enough in return for Schneider? That's certainly up for debate (Philadelphia, for example, wasn't willing to give up more?) but there are worse situations for teams to be in.
"Roberto has been excellent throughout this ordeal," Canucks general manager Mike Gillis said after completing the deal. "We have every bit of confidence in him."
The Devils, meanwhile, get their goalie of the future and the guy who's going to finally take over for Martin Brodeur. And probably sooner rather than later.
Goaltending was the biggest weakness the Devils had last season and was one of the biggest reasons they fell short of the postseason after reaching the Stanley Cup Final in 2012. The duo of Brodeur and Johan Hedberg was the oldest goaltending duo in the league and they just couldn't hold up, even in a lockout-shortened season.
Adding Schneider not only makes them a better team in 2013-14, but also well into the future.
Show Comments
Hide Comments
The NHL wild-card race is heating up and a top team awaits its inevitable early exit

Bill Foley said 'there were a lot better ways to spend $750 million' than to bring the NFL...

The NHL reverses course and wisely opts for transparency in what should be a huge off-season...
For first time since 2005-06, Edmonton is headed for a Stanley Cup run

With loss to Hurricanes, Detroit eliminated from postseason contention for first time since...

Flames-Capitals would pit underdogs vs. title favorites, while Pens-Oilers would showcase elite...