Carey Price is 'deteriorating,' per Canadiens' former goalie coach
Carey Price struggled at the end of the season and ex-Habs goalie coach Roland Melanson says Price has been 'deteriorating' since he left.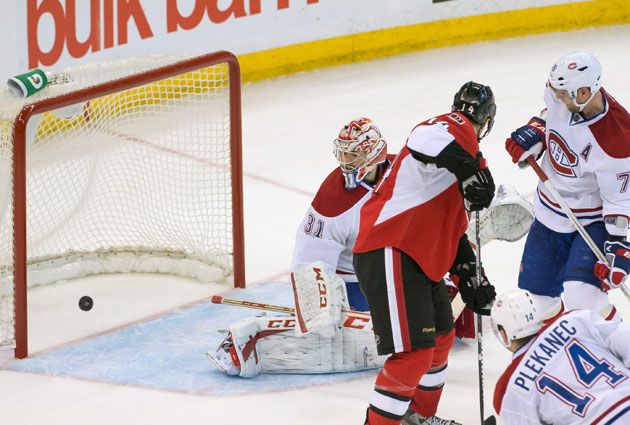 More NHL Playoffs: Scores | TV Schedule | Expert Picks | Odds | Mock Draft | Rumors
Before he was injured and his postseason ended a game early, Canadiens goaltender Carey Price was having a miserable finish to the season. He was very strong at the beginning of the year but tailed off and became a point of much consternation in Montreal.
The Habs' former goaltending coach, current Canucks goalie coach Roland Melanson, has a theory as to why Price not only struggled as the season drew to a close but why he says Price is declining: Melanson isn't there anymore.
"Carey hasn't stopped deteriorating since I left. He's all over the place now," Melanson told French newspaper L'Acadie Nouvelle (via NHL.com). "At some point, there has to be some accountability in the school yard. The position requires a lot of work, and Carey hasn't been consistent. He let things slide in practice, and it caught up to him during games."
Well, that's certainly an interesting theory. Melanson pretty clearly feels good about his abilities as a goalie coach. Only problem with his theory on Price is that the Habs goalie had his best season the year after Melanson left. He was replaced in 2009 by Pierre Groulx -- who was fired last week by the Habs -- and in 2010-11 Price had career-best numbers with a .923 save percentage and a 2.35 goals against average. Overall, Price has had better success without Melanson as pointed out by Thomas Drance.
Carey Price's save percentage with Rollie Melanson as his goalie coach: .912. Carey Price's save percentage without Melanson: .916.

— Thomas Drance (@ThomasDrance) June 11, 2013
That said, Melanson is right that Price has begun going the wrong direction in recent seasons. He followed that .923 save percentage with a .916 last season then a .905 percentage this season, a bad trend. And Melanson probably can take some credit for Price reaching what is so far the apex; he had a goalie who was growing in the NHL and Melanson likely helped; he's had good results with most goalies he has worked with.
Maybe Melanson's departure is behind Price's recent decline, maybe it's not. But fact is Price does need to turn things around when he gets back from his knee injury.
Show Comments
Hide Comments
Preds captain has three more days to recover from a hit to the head before final begins next...

Replicating its Game 6 dominance -- everywhere but the scoreboard -- might not be easy for...

Ottawa recovers from a 7-0 loss in Game 5 to quiet Pittsburgh's offense
Series schedules, results and updates from the Eastern and Western conference finals

Out for the remainder of the postseason, Johansen is still part of the Predators' playoff...

Nashville refuses to back down despite taking fewer than 20 shots against fill-in goalie Jonathan...