Carey Price named starter for Canada in quarterfinals
After starting in Canada's 2-1 win over Finland, Carey Price has earned the start for Canada's first quarterfinal game, pretty clearly taking the No. 1 role.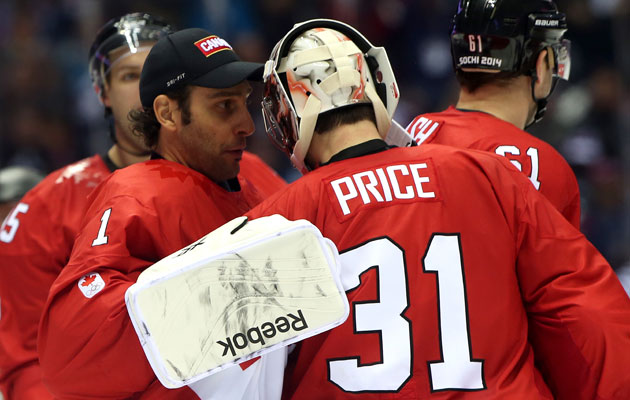 More NHL: Scores | Standings | League Leaders | Odds | Injuries | Power Rankings
Based on the fact that Carey Price started Canada's most important round-robin game against Finland, it looked as though coach Mike Babcock had made his decision on who the starter would be going forward. It was a good assumption to make.
After that game, which Canada won 2-1 in overtime, Babcock declined to indicate who the starter would be when the quarterfinals begin. On Tuesday he revealed that will once again be Price.
Coming into the tournament, Canada didn't have a clear No. 1 guy between Price and Luongo. Babcock elected to give each a start in Canada's first two games and there was little to distinguish between them.
Luongo entered the Games with the advantage of his 2010 Olympic experience while Price had the ege with better numbers this season in the NHL. It couldn't have been easy to pick between the two for Babcock, perhaps eenie-meanie-miney-mo was the difference.
That said, it did feel all along that Price was the guy with the slight edge in the competition with Luongo before the Olympics even began. A .943 save percentage in two games didn't hurt that perception for the Canadiens netminder.
As for the lines for Canada, well they were in flux again in Tuesday's practice. The big news out of there was that Sidney Crosby is back with Chris Kunitz and they were joined by Patrice Bergeron. Also, Jamie Benn joined the Anaheim duo of Corey Perry and Ryan Getzlaf. That's a trio that should help Canada muscle its way inside.
Show Comments
Hide Comments
Series schedules, results and updates from the second round of the Stanley Cup race

Here's how to stay on top of all of the NHL's second-round playoff series, which begin Wed...

Series schedules, results and updates from the first round of the Stanley Cup race
Ottawa took a 3-2 decision to send Boston home, and Washington outlasted Toronto, 2-1

Stevens was L.A.'s interim coach for four games in the 2011-12 season

St. Louis, New York and Edmonton eked out victories that eliminated Minnesota, Montreal and...