Carl Gunnarsson, Leafs pass on arbitration with three-year deal
Once again, arbitration spurs a deal. The Leafs and Carl Gunnarsson won't need to meet with a mediator after reaching a three-year accord.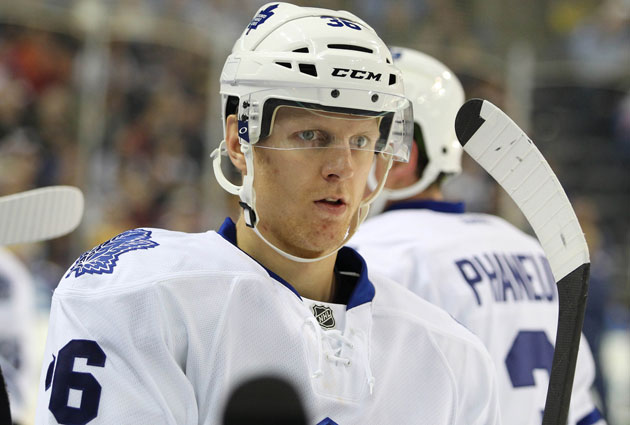 More NHL offseason: Rumors | Top 50 Free Agents | Buyout Tracker | Trades | Transactions
There really is nothing like an arbitration hearing to spur two sides into an agreement. The latest to find that out on Monday? Carl Gunnarsson and the Toronto Maple Leafs.
Following deals earlier in the day for Sam Gagner and Bryan Little, the Leafs re-signed their arbitration-bound restricted free agent Gunnarsson to a three-year contract on Monday. Gunnarsson had been slated to have a hearing on Friday to resolve the differences but that won't be necessary now.
The three-year contract is worth $9.45 million, so $3.15 million per season, according to multiple reports, including Tim Wharnsby of the CBC.
Gunnarsson has been spending most of his time with the big club in Toronto recently and has begun to establish himself as one of their more relied-upon defensemen. This past season he played in 37 games, averaging 21:17 per game, a season after averaging 21:42 per game in 76 apperances. He isn't a huge goal-scoring threat but he has been able to rack up assists in his NHL career thus far, picking up 14 last season.
Given how many minutes he plays (and the effectiveness with which he plays them), that's a pretty team-friendly cap hit for Gunnarsson. Let me put it this way: The Leafs could have done much worse on this deal; they have before.
The Maple Leafs are now left with about $6.5 million salary cap space for next season and still have to re-sign RFAs Cody Franson and Nazem Kadri, something they should be able to do at this point.
Show Comments
Hide Comments
Our Latest Stories
Big losses by the Sharks and Blackhawks have Washington back on top

On day he signs entry-level deal with Canucks, Boeser scores Vancouver's third goal in 4-2...

The Penguins' leader in highlight reels has been extra feisty on some cringe-worthy cheap shots...
2017 SAHP NHL Global Series will pit Ottawa and Colorado against each other in Stockholm

Finland has churned out some winners in a league filled to the brim with diverse players

From the Caps' goaltender to the star-studded headlining duo of Chicago's offense, these guys...