CBSSports.com Hobey Baker Award Watch: Week 7
Every week this season, Eye on Hockey will be tracking the best players in college hockey as they compete for the ultimate individual prize, the Hobey Baker Memorial Award.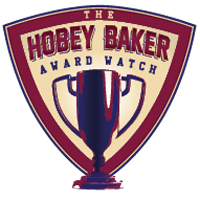 Every week this season, Eye on Hockey will be tracking the best players in college hockey as they compete for the ultimate individual prize, the Hobey Baker Memorial Award.
The Hobey Baker Watch is a collaboration between Eye on Hockey blogger Chris Peters and CBS Sports Network Hockey Analyst Dave Starman.
This week's college hockey slate is a little lighter than normal coming out of Thanksgiving, but most of the top Hobey candidates remain in action.
The season has continued to provide some incredible individual performances, with many players outpacing career averages, to create one of the deeper Hobey fields in recent memory.
St. Lawrence's Kyle Flanagan now has company in the national scoring lead as Bentley's Brett Gensler has tied him. Both have 19 points this season, but Gensler has done it in one less game. Both will still have to battle the stigma of playing in weaker conferences, which is one of the reasons that Johnny Gaudreau takes over the top spot with Flanagan and Gensler falling in line behind the BC sophomore. Meanwhile, Denver junior Nick Shore holds steady at No. 4.
There are plenty of other players inserting themselves into the discussion, however. Over the last two weeks, New Hampshire goaltender Casey DeSmith has made a strong case for consideration. The sophomore completed three straight shutouts last weekend and had his shutout streak last 204:40, a school record. He has helped make the Wildcats one of the top teams in the country. If he keeps this up, the Hobey chatter will continue. Also getting added to the Others to Watch list is North Dakota's Danny Kristo. The senior forward has been on a tear with 12 points in eight games. He could get himself in the top four with another big weekend against Notre Dame.
1. Johnny Gaudreau -- Boston College
 
Position: Forward
Class: Sophomore
Ht: 5-7 Wt: 150
Season Stats: 10 GP, 7g-7a—14pts
Comment:  Gaudreau had a pair of assists in BC's incredible comeback against Merrimack last weekend. He keeps driving BC's potent offense and is a threat in every game. Gaudreau is quite possibly the biggest difference-maker in college hockey right now. Along with Pat Mullane and Steven Whitney, Gaudreau gives BC a line it can count on in any game in any situation. Gaudreau has been reminiscent of a certain youthful Heisman Trophy candidate, leading CBS Sports Network play-by-play man Ben Holden to call Gaudreau, "Johnny Hockey." The way that Gaudreau has been playing, that name just might stick.
2. Kyle Flanagan -- St. Lawrence
 
Position: Forward
Class: Senior
Ht: 5-9 Wt: 179
Season Stats: 10 GP, 8g-11a—19pts
Comment: Flanagan's production has been slowing a bit in recent weeks, and St. Lawrence's record has been heading in the same direction. To get back in the driver's seat for the Hobey, Flanagan not only has to produce but must help St. Lawrence into contention within the ECAC. The Saints have yet to win an ECAC game in four tries so far this season. A team's success, or lack thereof, can play a significant role in a player's Hobey hopes. The fact remains that Flanagan is tied for the national scoring lead and has been the leader every week so far, which is significant at this still somewhat early stage of the season.
3. Brett Gensler -- Bentley
 
Position: Forward
Class: Junior
Ht: 5-10 Wt: 160
Season Stats: 9 GP, 8g-11a—19pts
Comment:  There is only one regular player who has put up more than two-points-per-game this season, and that's Gensler. Though tied with Flanagan for the national scoring lead with 19 points, Gensler has done it in one less game giving him a 2.11 points-per-game average. If he can sustain such a pace, he will remain in the hunt. Bentley is currently above .500, but like Flanagan, Gensler needs to make this team a tournament contender and competitive in nonconference games to sway voters. You still can't discount what the junior has done so far with his incredible scoring pace.
4. Nick Shore -- Denver
 
Position: Forward
Class: Junior
Ht: 6-0 Wt: 190
Season Stats: 10 GP, 5g-11a—16pts
Comment:  With a three-point weekend in a series sweep of archrival Colorado College, Shore keeps padding his Hobey resume quite nicely. He's still the leading scorer for one of the two best teams in college hockey, which will definitely come into consideration. No one coming into this season anticipated Denver to be this good offensively, but Shore, linemate Chris Knowlton and defenseman Joey LaLeggia have been driving that bus all year. Outperforming expectations could be a big decision point for voters. Of course, it's only November and the competition will only intensify. But if Shore can sustain this pace and Denver keeps looking like a title contender, he'll remain in the mix all year long.
Others to watch:
Greg Carey -- F -- Jr. -- St. Lawrence
Casey DeSmith -- G -- So. -- New Hampshire
Danny Kristo -- F -- Sr. -- North Dakota
Joey LaLeggia -- D -- So. -- Denver
Nic Dowd -- F - Jr. -- St. Cloud State
Show Comments
Hide Comments
The Predators are riding an opportunistic defense and superb goalie, while the Pens boast elite...

Washington and Toronto set to face off March 3 in Annapolis

"Let's go, Preds!" chants take on a whole new meaning in the hype piece
Both Stanley Cup Final contenders cracked the list of top 10 teams searched in 2016-17

The Preds will need more from their blue-line depth, and Pittsburgh has to capitalize in s...

Vince Gill, Carrie Underwood, Lady Antebellum and Luke Bryan have apparently upstaged a hometown...