Colorado Avalanche win NHL draft lottery
The Colorado Avalanche won the NHL draft lottery and will pick first in the 2013 draft. Will they take Seth Jones?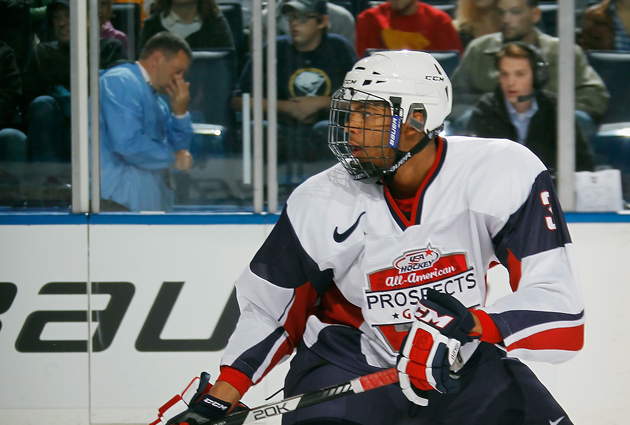 More NHL Playoffs: Scores | TV Schedule | Expert Picks | Odds | Mock Draft | Rumors
The Colorado Avalanche didn't win many games this season, but they at least had something good happen to them on Monday night. They won the NHL draft lottery and the No. 1 overall pick in the 2013 draft.
Good news for them, and bad news for the Florida Panthers, the only team in the league that lost more than the Avalanche this season.
Colorado, the owner of the second-worst record, had an 18 percent chance of winning the lottery, the second-best chance behind Florida's 25 percent. As a result of the Avs' win, the Panthers will drop to the No. 2 spot while every other team will select in the position that they were originally slotted in.
This is the first year that every non-playoff team had an opportunity to pick first, which was one of the changes that came in the new collective bargaining agreement. In years past, only the bottom five teams in the standings had an opportunity to win the lottery.
It's also the first time since 2009 that somebody other than the Edmonton Oilers owned the first pick. Edmonton selected Taylor Hall, Ryan Nugent-Hopkins and Nail Yakupov over the past three years.
The top pick this year is likely to come down to defenseman Seth Jones and forwards Jonathan Drouin and Nate MacKinnon. Our Chris Peters had Jones going No. 1 overall in his latest mock draft this week.
All seven rounds of the NHL draft will take place at the Prudential Center, home of the New Jersey Devils, in Newark, N.J., on June 30.
Here are the top 14 picks in the draft:
1. Colorado Avalanche
2. Florida Panthers
3. Tampa Bay Lightning
4. Nashville Predators
5. Carolina Hurricanes
6. Calgary Flames
7. Edmonton Oilers
8. Buffalo Sabres
9. New Jersey Devils
10. Dallas Stars
11. Philadelphia Flyers
12. Phoenix Coyotes
13. Winnipeg Jets
14. Columbus Blue Jacets
Show Comments
Hide Comments
Lucic signs with Oilers, Okposo goes to Buffalo, Bruins land Backes

The NHL's partnership with MLBAM has produced another unique opportunity

Connor McDavid, P.K. Subban and Auston Matthews among players you won't see a whole lot
Kane faces one count of criminal trespass and four counts of non-criminal harassment

When passing the Stanley Cup around a party, don't leave out Granny Kessel

It took longer than most expected it would, but Matthews is now officially a Maple Leaf