Coyotes to give away Mike Smith bobblehead in honor of goalie goal
The Phoenix Coyotes will be handing out a Mike Smith bobblehead in a couple of weeks in honor of his goalie goal. It's complete with an excellent ad.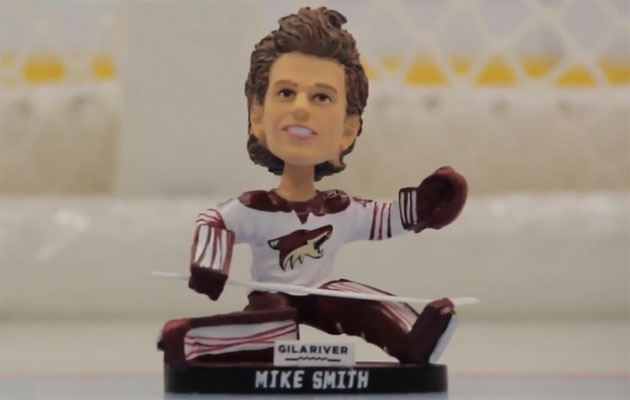 More NHL: Scores | Standings | League Leaders | Odds | Injuries | Power Rankings
Goaltenders don't score often in the NHL -- it has only happened 11 times -- so when it does it is the responsibility of teams to properly recognize this achievement.
The Phoenix Coyotes are doing their duty. After goaltender Mike Smith scored a goal earlier this month -- a real, off his stick goal because he shot it goal -- the Coyotes are giving away a bobblehead to commemorate the score on Nov. 9 against the Caps. The first 10,000 fans will get their bobblehead.
(On a side note, is it just me or does Mike Bobblehead Smith look like Tom Brady?)
Now not only did they make this bobblehead of Smith but they made an excellent promitional ad to spread the word too because really, the bobblehead could be from any old save when Smith weren't wearing a mask. The ad is probably better than the bobblehead.
If that's not going to pack the arena for a game against the Capitals then I'm not sure what would.
S/t to Puck Daddy
Show Comments
Hide Comments
Series schedules, results and updates from the second round of the Stanley Cup race

Here's how to stay on top of all of the NHL's second-round playoff series, which begin Wed...

Series schedules, results and updates from the first round of the Stanley Cup race
Ottawa took a 3-2 decision to send Boston home, and Washington outlasted Toronto, 2-1

Stevens was L.A.'s interim coach for four games in the 2011-12 season

St. Louis, New York and Edmonton eked out victories that eliminated Minnesota, Montreal and...