Dallas Eakins thinks his job could be on line if Oilers keep struggling
The Edmonton Oilers have the second worst record in the NHL and if they don't get it going the right direction, coach Dallas Eakins thinks his job could be in jeopardy.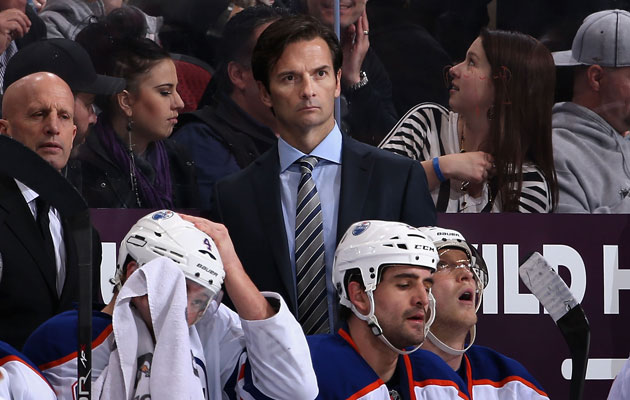 More NHL: Scores | Standings | League Leaders | Odds | Injuries | Power Rankings
Dallas Eakins is not even through his first full season as the head coach of the Edmonton Oilers but already he's starting to feel some pressure building. Perhaps that's because the Oilers have lost five in a row and are three points ahead of Buffalo for the worst record in the NHL this season.
On Wednesday he mentenioned that if the Oilers don't get going there is a pretty clear target: himself (though Kevin Lowe is already a target before Eakins).
Dallas Eakins to the media today, admitting his own vulnerability: "I firmly know that if I don't get this group going soon, it could be me"

— Dan Tencer (@dantencer) January 22, 2014
There is some precedent for the Oilers firing a coach so soon. Ralph Krueger was fired in the offseason after just one season running the show, and that one season was just 48 games long. That would seem to make it doubtful that the Oilers would want to change coaches again so soon, especially since new GM Craig MacTavish picked Eakins himself, but crazier things have happened.
The results haven't been there but it seems like the Oilers are in good hands with Eakins, or at least he knows what he's doing. He had a somewhat combative postgame session with the media in which he talked about the team's hits -- dropping the money line that ideally your team doesn't record a single hit because you possess the puck the entire time -- and talked about seeking retribution and other such issues
It's hard not to like what he had to say on those fronts.
Even if Edmonton struggles to the finish line this season, a distinct possibility, it would still be surprising to me if Eakins were to pay for it so soon, especially after the Oilers just preached patience with their rebuilding effort earlier this week. Still, feeling the pressure might not be the worst thing to help get the Oilers turned around.
The season is lost in terms of the playoffs but a good finish to the season could do wonders for the mindset of the team going into the offseason.
Show Comments
Hide Comments
Our Latest Stories
Big losses by the Sharks and Blackhawks have Washington back on top

On day he signs entry-level deal with Canucks, Boeser scores Vancouver's third goal in 4-2...

The Penguins' leader in highlight reels has been extra feisty on some cringe-worthy cheap shots...
2017 SAHP NHL Global Series will pit Ottawa and Colorado against each other in Stockholm

Finland has churned out some winners in a league filled to the brim with diverse players

From the Caps' goaltender to the star-studded headlining duo of Chicago's offense, these guys...