Dan Cleary to sign with Flyers for three years, $7.75 million
Dan Cleary won't be returning to Detroit, instead he's going to Philly for three years and $7.75 million. Because they're the Flyers.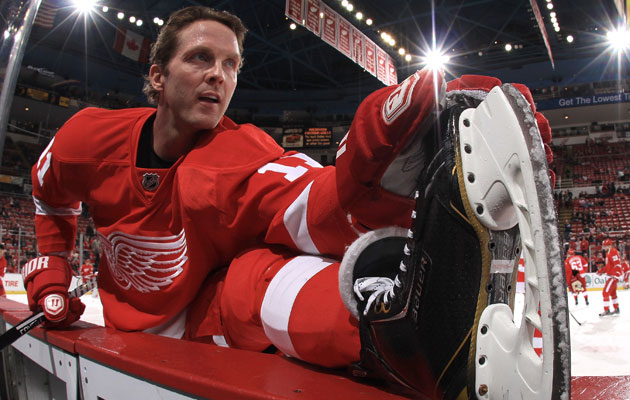 More NHL offseason: Rumors | Top 50 Free Agents | Buyout Tracker | Trades | Transactions
All summer long Dan Cleary has been sitting around mulling his options with a return to Detroit seeming to be his preference. That was until the Philadelphia Flyers came along and did what the Philadelphia Flyers do.
Daniel Cleary is going to Philadelphia Flyers for 3 years, AAV of $2.75 Million. NTC. Deal won't be official till end of month.

— Helene St. James (@HeleneStJames) September 10, 2013
Yup, that just happened. The Flyers are going to sign a 34-year-old with bad knees to a three-year contract for $2.75 million per season and give him a no-trade clause. It was almost like we had forgotten that Paul Holmgren was still the Flyers' GM this summer so thanks for the reminder, Homer.
There was talk about Cleary taking a PTO to come to camp and show what he still had and that made sense. No harm in seeing if a player is worth signing down the road or not. But giving this kind of committment right now? Well talk about your gambles.
For the record, right now the Flyers are insisting that Cleary is coming in on just a PTO and that no contract is in place. But that's probably just because they're over the cap.
The contract won't actually be signed until the end of the month as St. James points out, that's because as usual the Flyers are over the cap. They have to wait for the first week of the season before they can transfer Chris Pronger to the Longterm Injury Reserve and then they will still have to make a move or two either via trade or simply demotions to the AHL, something that will likely come from the defensive corps. Then at that point would they have the space to squeeze in Cleary.
It's almost as if the cap was telling Holmgren not to do it but he scoffed in its face.
A couple of seasons ago perhaps it wouldn't be a horrible deal. Cleary had 26 goals and 20 assists in 2010-11, but when you're talking about 32 years old vs 34 years old and combining that with knee issues, that can look like an awful long time ago, which it does. Cleary had nine goals and six assists in this past shortened season.
Of course Cleary has been known for some of his playoff performances which is great and a quality that isn't really a quality at all that teams love. First, though, the Flyers have to actually make it back to the playoffs for that to matter.
You'd think the Flyers would have been happy to actually try and have some room under the cap this season (again, with Pronger going on LTIR) but they just couldn't keep it around for a rainy day or anything. If there is space it has to be spent, every last penny. Instead of giving a shot to a young player such as Scott Laughton who had an extended tryout into last season and didn't look that far away from ready, they're going with the veteran Cleary. For three seasons. As what is essentially a third-line spare part.
General rule of thumb: If Ken Holland won't match an offer given to one of his players then you know it's probably a bad offer.
Show Comments
Hide Comments
Science says guitars and pucks are linked, so maybe Ozzy and Metallica are key to better play...

The NHL wild-card race is heating up and a top team awaits its inevitable early exit

Bill Foley said 'there were a lot better ways to spend $750 million' than to bring the NFL...
The NHL reverses course and wisely opts for transparency in what should be a huge off-season...

For first time since 2005-06, Edmonton is headed for a Stanley Cup run

With loss to Hurricanes, Detroit eliminated from postseason contention for first time since...