Dave Tippett unhappy with officiating, embellishment following Game 3 loss
Phoenix Coyotes coach Dave Tippett was unhappy with the embellishment he's seeing during the playoffs right now, and he sounded off about it after their Game 3 loss in Los Angeles on Thursday night.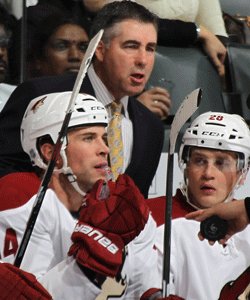 How do you know desperation is starting to set in for the Phoenix
Coyotes
? The focus is now being turned to the officiating as was the case following Thursday's game in Los Angeles, which the
Kings
won by a 2-1 margin to take a 3-0 series lead
.
Coyotes coach Dave Tippett talked extensively in his post-game press conference about the officiating and the current "dishonest" state of the game due to embellishment by players on the ice.
"If I told you what I really thought I think it would cost me a lot of money," said Tippett.
He then proceeded to tell us exactly what he thought.
"Personally, the whole thing, and I've talked about this in a lot of meetings with Don [Maloney] our general manager, the game is turning a little dishonest. And it's embellishment by players. When it's done well it's very hard for the referees. Because if you fall down near the boards, or you drop your stick, or you throw your head back, you're putting the referee in a very tough situation. It's not just our game tonight, you see it all the way through. The referees have a hard job and what it does is it makes the game dishonest. But in actual fact, to make it work to your favor you gotta do it more."
"You gotta do it," Tippett continued. "If everybody else is doing it, you better do it too. We saw more than one penalty out there, for us and against us, that were called where I thought they were plays with embellishment. It's too bad it has to go that way. It's too bad you get to this point in the season and that becomes a factor, but it's the reality of our game right now."
(Tippett said more in that one answer than John Tortorella has said the entire postseason. Combined.)
The Coyotes were penalized four times in the third period of Thursday's game, putting quite the dent in their hopes of putting together a late surge to tie potentially the game.
Tippett is one of the best coaches in the
NHL
, and he's doing what he feels he needs to do at this point, but there is a reason his team is in the position it's currently in.
And it's not the officiating, and it's not embellishment.
At the end of the day the Kings have been -- and are -- the better team, and have demonstrated that every game this series with their ability to push the play, maintain possession, and keep the puck away from the Coyotes.
During 5-on-5 situations in this series the Kings have attempted 60 percent of the shots that have been taken between the two teams. When one team has a 60/40 edge when it comes to offensive zone time and possession, that team is more likely to draw way more penalties than it takes because their opponent is constantly chasing the game and doing whatever it can to prevent scoring chances and goals.
That's one of the big advantages that comes with controlling the puck and going on the attack.
The Coyotes aren't losing in this series because of officiating or embellishment. They're losing because they've consistently put themselves in a bad position by never having the puck and always having to defend.
Photo: Getty ImagesFor more hockey news, rumors and analysis, follow @EyeOnHockey and @agretz on Twitter and like us on Facebook
.
Pittsburgh sits atop them all as the repeat champs, while Nashville rises up after its big...

Islanders could also be loading up for scoring talent, and Vegas has plenty of D-men to se...

Fired by Dallas this offseason, Ruff is expected to replace Jeff Beukeboom
Even without a can't-miss prospect, the first round features a handful of solid center pic...

Casey Mittelstadt goes off the board in the top 10 picks of the 2017 NHL Entry Draft

New Jersey makes the Halifax Mooseheads star the first overall selection in this year's dr...