David Poile taken to hospital after Preds GM hit by puck at skate
A scary scene unfolded at the Predators' morning skate in Minnesota on Thursday when GM David Poile was hit by a puck in the head and was taken to a hospital.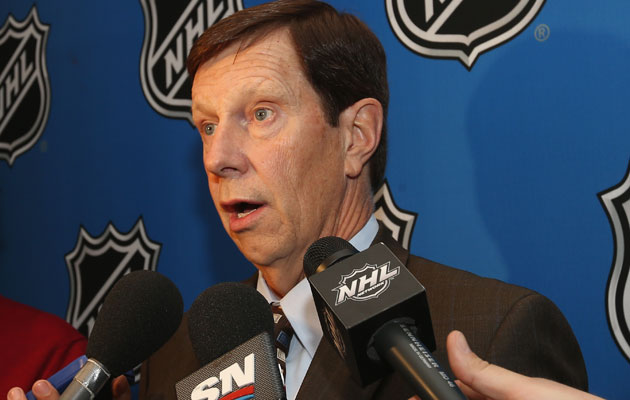 More NHL: Scores | Standings | League Leaders | Odds | Injuries | Power Rankings
Nashville Predators and Team USA general manager David Poile was taken to a Minnesota hospital on Thursday after he was hit with a puck at the team's morning skate.
Minnesota wild beatwriter Michael Russo of the Minneapolis Star-Tribune was on the scene.
Paramedics in #preds locker room; David Poile hit by puck at skate. He walked and sat self on stretcher; black eye, bloody nose, groggy

— Michael Russo (@Russostrib) February 6, 2014
Poile being taken to local hospital #preds

— Michael Russo (@Russostrib) February 6, 2014
Poile was in hallway not even on bench. Players were passing boards to boards and a Weber pass ricocheted off blade into David's face #preds

— Michael Russo (@Russostrib) February 6, 2014
Yikes, that sounds scary, and awfully unlucky. That puck must have had eyes to find Poile in a spot like that.
It doesn't sound like he escaped some rough treatment, either. According to Pioneer Press writer Chad Graff, Poile was having a lot of work done, none of which sounds very pleasant.
Nashville and Team USA GM David Poile still in surgery as of 20 minutes ago. He's going to need 30-40 stitches. It's an eye socket fracture.

— Chad Graff (@ChadGraff) February 6, 2014
In addition to that, Graff said there is some concern that Poile will miss the flight to Sochi with the rest of the American staff. So go ahead, Americans, blame Canadian defenseman Shea Weber for taking the opening shot in the USA-Canada hockey rivalry for the Olympics.
Show Comments
Hide Comments
Our Latest Stories
The Penguins' leader in highlight reels has been extra feisty on some cringe-worthy cheap shots...

2017 SAHP NHL Global Series will pit Ottawa and Colorado against each other in Stockholm

Finland has churned out some winners in a league filled to the brim with diverse players
From the Caps' goaltender to the star-studded headlining duo of Chicago's offense, these guys...

Scoring his 41st goal of the year in a 3-1 win over the Buffalo Sabres, the Pittsburgh Penguins...

A nightmare comes to life with Gary Bettman downplaying the idea of sending NHL stars to South...