Dennis Seidenberg done for season? 'There's a chance' he returns
GM Peter Chiarelli said on Monday that there's a chance Dennis Seidenberg could return for the playoffs, though the Bruins won't bank on it.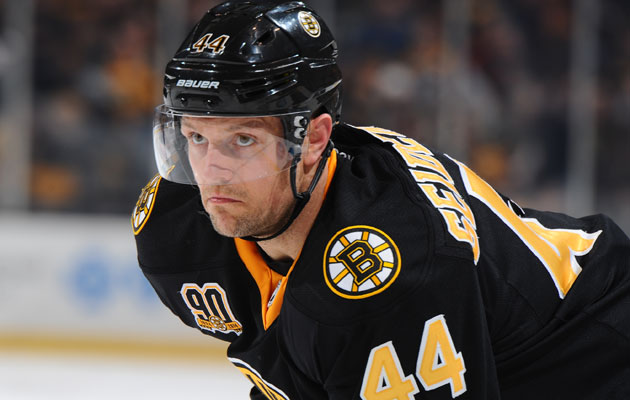 More NHL: Trades | Scores | Standings | League Leaders | Odds  | Power Rankings
If you have watched the Boston Bruins any time in the last few weeks you might not realize it but they have been without one of their best defensemen in Dennis Seidenberg. Earlier this season Seidenberg was ruled out for the rest of the hockey year, including the playoffs.
Even if it hasn't shown in the Bruins' 12-game win streak, it was a tough pill to swallow. Just because they have more than gotten by without Seidenberg this last little while doesn't mean they wouldn't love to have him back on the ice.
Well as it turns out, it's possible Seidenberg could play again this season. Not likely but possible as GM Peter Chiarelli told Hockey Night in Canada Radio on Monday.
Bruins GM Peter Chiarelli said on @hnicradio "There's a chance" Dennis Seidenberg could be back in playoffs. He is "ahead of schdeule" (1/2)

— Rob Pizzo (@robpizzo) March 24, 2014
(2/2) Chiarelli did add that he is not counting on it, but it is a possibility.

— Rob Pizzo (@robpizzo) March 24, 2014
Cue Lloyd Christmas.
It's hard to throw this caution out there enough, the odds of it happening are very slim. When Seidenberg went down in late January with a torn ACL and MCL, the recovery time was put at 6-8 months. If he were to return in the postseason it would probably only happen if the Bruins made another deep run but even then they would be a month ahead of that timetable.
Having said that, if the GM of all people is putting it out there, you know there is at least a shot it happens. But with the way the Bruins have played recently there is no need to push it, especially since Seidenberg is signed with the Bruins for years to come.
Prior to his injury Seidenberg played in 34 games with a goal and nine assists while recording 21:50 of ice time per game, second on the team only to Zdeno Chara. Where he was most valuable to the Bruins was on the penalty kill.
S/t The Score
Show Comments
Hide Comments
Our Latest Stories
From the Caps' goaltender to the star-studded headlining duo of Chicago's offense, these guys...

Scoring his 41st goal of the year in a 3-1 win over the Buffalo Sabres, the Pittsburgh Penguins...

A nightmare comes to life with Gary Bettman downplaying the idea of sending NHL stars to South...
The resurgent Lightning are primed to sneak into contention, while the once-hot Islanders are...

Capitals are first team to earn a playoff berth, but the Blackhawks are the hottest of the...

Earning their 100th point of the year in a big win over Tampa Bay, the Caps set the stage for...