Derek Stepan, Rangers come to terms on two-year contract
Derek Stepan and the Rangers have finally come together and reached an agreement. Stepan has a two-year deal for a reported $6.15 million.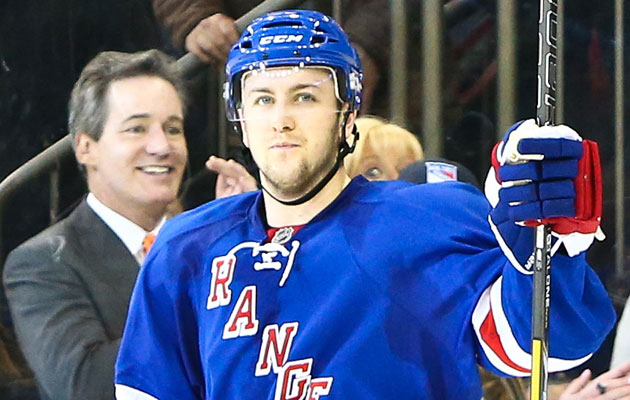 NHL previews: Atlantic Division | Metropolitan Division | Central Division | Pacific Division
The last piece of the restriced free agent puzzle has fallen into place as multiple outlets report that Derek Stepan and the New York Rangers have finally reached an agreement on a new deal.
According to Larry Brooks the contract is for $6.15 million over two seasons. In other words, the Rangers have their leading scorer under contract for $3.075 million for each of the next two seasons. That's a nice price.
Apparently Glen Sather woke up and smelled the roses here. Just a couple of days after he had some strong words for Stepan and his camp about Stepan needing to wise up, a deal is done and the Rangers' No. 1 center can get back onto the ice in short order.
The Rangers were in a very difficult spot with Stepan, a great young player with three strong years under his belt and not a lot of money to sign him with. The Rangers were insistent that Stepan sign a bridge, or gap, contract and that a time for the big money will soon follow. That didn't seem to be much of an issue, it was a question of how much that bridge deal would cost.
Last reports had the sides not all that far apart on the money -- Stepan reportedly looking for $7 million, the Rangers looking for $6 million but willing to go a little bit higher -- but with the Rangers' cap issues, that gulf was magnified. Now none of that matters, they found a price they could all agree on and Stepan can get back to work and trying to earn that big extension in a couple of years. From the sounds of it, though, it seems like the Rangers got Stepan to come down to where they wanted, yet another example to demonstrate how little power RFAs have in negotiations.
Stepan was the Rangers' top center last season and their leading scorer with 44 points in 48 games (18 goals, 26 assists). He hasn't missed a single game in his three NHL seasons thus far but he's cutting it close for making the Rangers' debut next week. At this point though I doubt they care too much about that, he's back under contract and that's what counts.
And yes, Rangers fans, the deal is done so you can calm down now.
Plans for renovating KeyArena are now also being overseen by NHL-to-Seattle hopefuls

With Leslie Anderson selling the Rockets, there is newfound hope for hockey in Houston

Pittsburgh Penguins' repeat Conn Smythe Trophy winner has more than hockey on his athletic...
Russian outlets suggest Olympic participation is still on the table, but NHL has repeatedly...

Buffalo's forward suits up in Da Beauty League as he prepares to return to Sabres in 2017-...

Penguins goalie shows support for Thunder Bay's Gavin Currie