Devils GM says Martin Brodeur 'still a No. 1 goalie'
New Jersey Devils general manager Lou Lamoriello thinks Martin Brodeur is still a No. 1 goalie in the NHL. Is he right?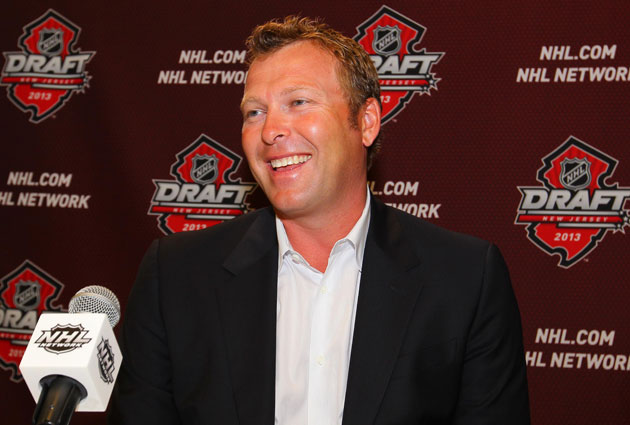 More NHL offseason: Rumors | Top 50 Free Agents | Top 50 Prospects | Mock Draft
The New Jersey Devils were part of the biggest trade of the day on Sunday when they landed goalie Cory Schneider from the Vancouver Canucks in exchange for the No. 9 overall pick in the draft.
At some point he's going to be the Devils' starting goalie, but according to general manager Lou Lamoriello New Jersey's returning starter, Martin Brodeur, is still "a No. 1 goalie."
Does that mean Brodeur is still going to enter the season as New Jersey's starter, leaving Schneider in another situation where he has to fight for playing time behind a veteran?
"Marty is still a number one goaltender," Lamoriello said. "There's no question. It's just a question of how much he can play."
Lamoriello also said, via Devils beat writer Tom Gulitti, that he's talked to Brodeur in the past about playing fewer games and his successor.
Hopefully for the Devils' sake fewer games and his successor are coming as a result of Sunday's trade.
Brodeur is an institution when it comes to New Jersey hockey. He's perhaps the best player in franchise history (I'll hear your arguments for Scott Stevens or Scott Niedermayer), one of the best goalies ever, a future Hall of Famer, and a three-time Stanley Cup Champion.
I get all of that.
But his best days are clearly behind him and not only is he no longer the best goalie on his own team at the present time, it's up for debate as to how many teams would actually want him as a starter right now. 
Goaltending was one of the biggest issues the Devils had last season when they missed the playoffs for just the third time in 22 years. Despite giving up the fewest shots in the NHL this past season the Devils were 13th in the NHL in goals against. Their team save percentage of .890 was 28th in the league.
As for Brodeur himself, he's posted just a .905 save percentage over the past three seasons. Among the 55 goalies that have appeared in at least 40 games over that time, Brodeur is 44th on that list.
Doesn't exactly seem like the performance of a guy that's still a No. 1 in the NHL.
Schneider, on the other hand, is just starting to enter what should be his prime and has been the superior goalie the past couple of seasons. How good he's really going to be remains to be seen, but he's on the right track.
At some point you have to turn the page and move on from a legend. For the Devils, that time is now.
And it started on Sunday with their trade for Cory Schneider.
Show Comments
Hide Comments
The Predators are riding an opportunistic defense and superb goalie, while the Pens boast elite...

Washington and Toronto set to face off March 3 in Annapolis

"Let's go, Preds!" chants take on a whole new meaning in the hype piece
Both Stanley Cup Final contenders cracked the list of top 10 teams searched in 2016-17

The Preds will need more from their blue-line depth, and Pittsburgh has to capitalize in s...

Vince Gill, Carrie Underwood, Lady Antebellum and Luke Bryan have apparently upstaged a hometown...