Devils want to play Jaromir Jagr less but need others to step up
Jaromir Jagr has been the best Devil this season but coach Peter DeBoer doesn't want to play the 41-year-old 20 minutes a night. So far he has had little choice.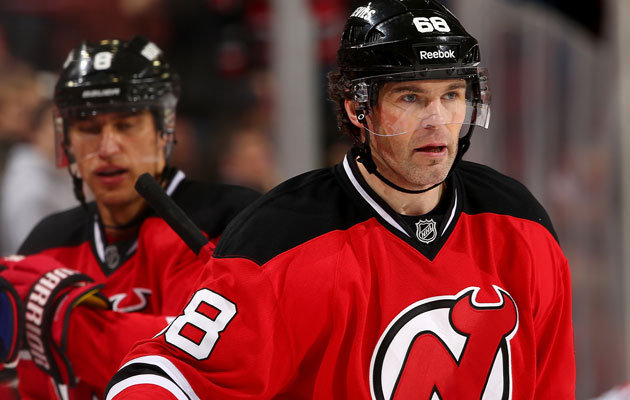 More NHL: Scores | Standings | League Leaders | Odds | Injuries | Power Rankings
When the New Jersey Devils signed Jaromir Jagr to a one-year contract this summer, the most common response seemed to be to laugh at the Devils for signing another guy who was old and well past his prime.
I'd say the only people laughing now are Jagr, the Devils and coach Peter DeBoer, but that wouldn't be entirely true. The problem of late for the Devils hasn't been Jagr, who continues his ascent in the NHL record books; it has been everybody else.
Even though Jagr has been the best Devil on the ice this season (skater division), DeBoer wants to cut back the ageless wonder's minutes, but the rest of the team hasn't really allowed him to. From Rich Chere of the Newark Star-Ledger:
The Devils must look at the big picture for the 41-year-old Jagr.

"Sure. I'm not even looking at age, because I don't think he's a 40-year-old the way he takes care of himself and prepares," DeBoer said. "I don't look at him as an age number. I look at the fact that this is an Olympic year. He's probably a guy that is going to go to the Olympics and we're in a condensed schedule.

"The minutes have just been a little high. He's earned them. He's been key getting some of the wins in some games. For me, the bigger issue I shouldn't have to play him that much. We have to find other guys to take some of those minutes and right now we're looking for people to seize some of those opportunities."
I suppose you could have worse problems than having to fall back on playing Jaromir Jagr too much -- he is averaging 18:43 per game but has played 23:34 and 22:21 in the last two. But it's not a problem that DeBoer wants to have. Jagr leads the Devils in goals (11) and points (22), so naturally he's going to be on the ice a lot. It just can't be too much.
The Devils are right on the cusp of playoff position and figure to be there all year long. The Devils will need to have Jagr in prime shape when schedule crunch time comes.
Considering this is Jagr we're talking about, maybe he can play this much and still have plenty in the tank at the end of the season -- he was taking postgame skates with weights on in the playoffs, for pete's sake -- but the Devils apparently would rather not have to find out if the 41-year-old could actually handle it. If not, they ran their best player into the ground during the regular season.
Show Comments
Hide Comments
Ottawa's defense came up big in Game 1 to beat New York, and the Penguins beat the Capitals...

Series schedules, results and updates from the second round of the Stanley Cup race

Subban had three points in Nashville's 4-3 win over St. Louis in Game 1, while Edmonton dropped...
Washington and Pittsburgh figure to go neck and neck, as do Anaheim and Edmonton

Cassidy went 18-8-1 after replacing Claude Julien in 2016-17

With the playoff field cut in half, the stakes keep getting raised