Don't overlook the injury to Paul Martin in Pittsburgh
The Penguins found out on Saturday that they will be without Paul Martin for six weeks. That's a potentially big loss for the team on defense.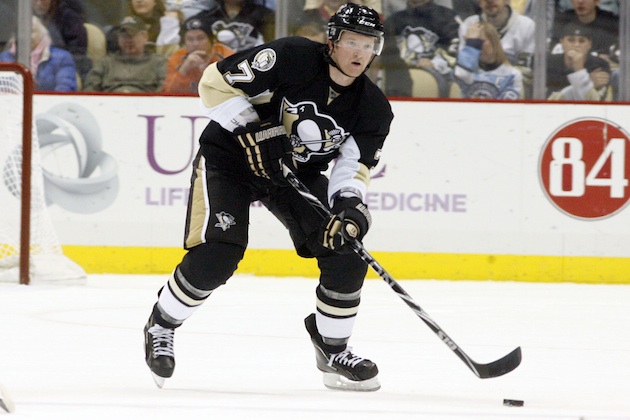 More NHL: Scores | Standings | Odds | Fight-O-Meter | League Leaders | Rumors
PITTSBURGH -- Everything was happening in Pittsburgh on Saturday afternoon.
Jarome Iginla arrived and surprisingly made his debut with his new team. The Penguins beat the Islanders to extend their winning streak to 15 games thanks to huge efforts from Matt Cooke and Tomas Vokoun, the latter recording his second straight shutout. Sidney Crosby was taken to a hospital for oral surgery after he lost a few teeth when he was hit in the mouth by a puck off the stick of Brooks Orpik. Chris Kunitz, the NHL's third-leading scorer, could be facing the long arm of the "Shanaban" after he was ejected for hitting Josh Bailey from behind into the boards late in the second period.
Given all of that madness, it would be easy to overlook the other big piece of information that broke before the Penguins' 2-0 win. News that could put the Penguins in the market for, if you can believe it, yet another pre-deadline addition.
Coach Dan Bylsma announced that defenseman Paul Martin will undergo surgery on Sunday and could miss up to six weeks after suffering a broken bone (he did not specify which bone) during Thursday's victory over Winnipeg. It's a huge injury and, given the current makeup of the roster, one that should not be overlooked.
It might even be a bigger deal than the addition of Iginla.
When this winning streak started a month ago, the Penguins' defense was a major question mark and concern. And for good reason. They were near the bottom of the NHL in goals against, didn't have much depth beyond their top four and even gave up 17 goals during the first four games of the streak (they've given up only nine over the past 11 games).
But with the Penguins already playing without Kris Letang, the loss of Martin is a big blow to their depth. If the six-week timeline is accurate, that could keep him out of the lineup through the first round of the playoffs. That's a big deal.
Martin drew a ton of criticism last season for his play (though, I don't think he was anywhere near as bad as his critics led you to believe) but has come back this year to be a rock on the Penguins' blue line. He plays 25 minutes a night and has been a vital part of their power play and penalty kill. His game doesn't generate a lot of attention because he doesn't usually put up huge point totals (though, he is one of the leading scorers among defensemen this season) or dish out big hits, the type of things that get defensemen on highlight reels. But his greatest asset is the ability to get the puck in the defensive zone and make the smart plays to get the puck up ice and out of danger.
He has been one of the constants on the Penguins' blue line this season and, along with Orpik, has formed their top shutdown pairing. But with Martin and Letang out of the lineup for the time being, it takes a lot of puck-moving ability off their defense. That was evident at different points throughout the game on Saturday. It would be easy to look at a third straight shutout and ignore that aspect of the game, but a lot of that success on the scoreboard on Saturday was due to stellar goaltending from Vokoun.
One of the big changes for the Penguins over the past month when it comes to their success defensively has been their puck management and the way that they've been able to protect the puck. Early in the year, they had stretches of sloppy play in which they were prone to turnovers and didn't always make the smart play with the puck leading to odd-man rushes and scoring chances the other way. They've eliminated a lot of that lately. But with no Martin and Letang, it will put a ton of pressure on Matt Niskanen and rookie Simon Despres to take on that roll, and that's a potentially large drop.
It was obvious early in the third period, when Niskanen attempted to make an ill-advised cross-ice pass to Despres. That was easily picked off by the Islanders' Michael Grabner, who then took off up ice for a breakaway. Fortunately for the Penguins, Vokoun was up to the task, as he was for the entire game.
The rest of the defense at this point is made up of Orpik, Deryk Engelland, Douglas Murray and Mark Eaton, and none of those guys at this point in their careers has the abiliy to break out of the zone and start the play the way Martin does. It not only effects the team defensively but offensively as well. After all, you can't score if you can't effictively and efficiently get out of the defensive zone.
It also puts the spotlight back on general manager Ray Shero to see if he has yet another move up his sleeve, or if he's willing to just roll with what he has on the blue line until his two injured defensemen return. The Penguins, even after their recent pre-deadline shopping spree, can add up to $15 million in cap hits to their roster as of Saturday afternoon. That seems pretty absurd given how much they added over the past week.
The Penguins are the highest scoring team in the NHL this season by a wide margin. They had plenty of offense before they went out and acquired Iginla. He was a luxury addition to the lineup, and it would have been possible for them to win and go on a deep run without him.
But they need guys like Martin and Letang.
Even though the Penguins are one of the favorites to win the Stanley Cup, a lot of things can very easily stop them from going on a long postseason.
A hot opposing goaltender in the playoffs (or a cold streak by their goaltender) is one of those things.
Injuries and a shorthanded defense are another.
Show Comments
Hide Comments
Washington and Pittsburgh figure to go neck and neck, as do Anaheim and Edmonton

Cassidy went 18-8-1 after replacing Claude Julien in 2016-17

With the playoff field cut in half, the stakes keep getting raised
Green has led Vancouver's AHL affiliate since 2013

Series schedules, results and updates from the second round of the Stanley Cup race

Here's how to stay on top of all of the NHL's second-round playoff series, which begin Wed...