Ducks sign fast-starting Viktor Fasth to two-year extension, $5.8 million
The Anaheim Ducks have already seen enough from Viktor Fasth to give the goalie a two-year extension for a reported $5.8 million.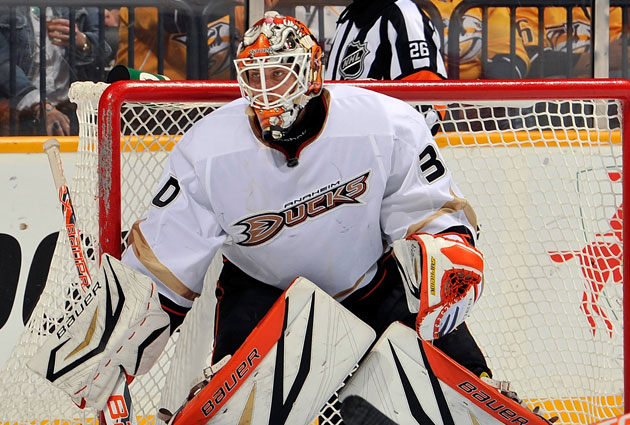 Not a bad start to Fasth's NHL career, eh? (Getty Images)
More NHL: Scores | Standings | Odds | Fight-O-Meter | League Leaders | Rumors
If you start your career as an NHL goaltender 8-0-0, your team is going to find a way to thank you.
Anaheim Ducks "rookie" goaltender Viktor Fasth, 30, has been perfect to start his NHL career after getting a cheap free-agent deal from the Ducks before the season. He's been one of the best stories of the young year along with the Ducks. As a result, he received a two-year contract extension from Anaheim on Wednesday.
While the team didn't announce the particulars, Helene Elliott of the LA Times says the deal is worth $5.8 million total; $2.4 million the first year, $3.4 million the second. In other words, it carries at $2.9 million cap hit.
"Viktor has proven himself not only this year in the NHL, but the previous two seasons as the top goaltender in Sweden," Ducks Executive Vice President/General Manager Bob Murray said in the team release. "We are pleased to be able to keep him and feel fortunate to have two top NHL goaltenders going forward."
I wanted to avoid the pun here but it really fits too well: That was fast.
Can you remember a player ever getting a contract extension like this just eight games into his NHL career? It's relatively unprecendented. Then again, Fasth's start is fast approaching (yeah, pun intended) that territory as well. To come into the NHL and start 8-0-0 with a 1.78 goals against average and .933 save percentage is pretty amazing.
One thing that probably helps the Ducks feel better about making a commitment so early is Fasth's age. He might be new to the NHL but he's hardly a rookie on the big-level hockey stage. The native of Sweden has been playing overseas at the highest leves for years. In fact, the last two seasons playing in the Swedish Elite League he was named the league's top goaltender. So there is a track record.
It's just that the Ducks were the team that gave him a shot in the NHL. According to CapGeek, Fasth is receiving $1 million for this season. Obviously they liked what they saw and are presumably going to give an increased share of Jonas Hiller's work with the increased salary.
How long Fasth will play at this level remains to be seen but you can be sure he eventually will come back to earth and lose at some point. Still, if he turns out to be just a good goalie then the deal will look good for the Ducks for the next two years. For his very small sample size of production, the deal might be a bargain.
A look at the closest comparables to Fasth's contract shows the names Semyon Varlamov, Corey Crawford and Craig Anderson.
Then again, here's the list of goalies who made the NHL debut at the age of 30 or later. Tell me if you can recognize anybody on this list.
The point is, it's certainly a gamble for the Ducks but I don't think it's a terrible one. The money is decently high but certainly not terrible. Between a relatively low cap hit based on the potential production and the short term of the deal makes the extension a low risk.
And if it does pan out, then the Ducks have themselves a pretty great deal, kind of like the Senators and Anderson.
For more hockey news, rumors and analysis, follow @EyeOnHockey and @StubitsCBS on Twitter, subscribe to our YouTube account and like us on Facebook.
Show Comments
Hide Comments
Replicating its Game 6 dominance -- everywhere but the scoreboard -- might not be easy for...

Ottawa recovers from a 7-0 loss in Game 5 to quiet Pittsburgh's offense

Series schedules, results and updates from the Eastern and Western conference finals
Out for the remainder of the postseason, Johansen is still part of the Predators' playoff...

Nashville refuses to back down despite taking fewer than 20 shots against fill-in goalie Jonathan...

Anaheim will be without two key forwards and possibly its No. 1 goalie in Nashville on Mon...