Ed Jovanovski waived with intent to be bought out by Panthers
The Florida Panthers placed captain Ed Jovanovski on waivers Sunday with the intent to buy out the veteran defenseman's final year.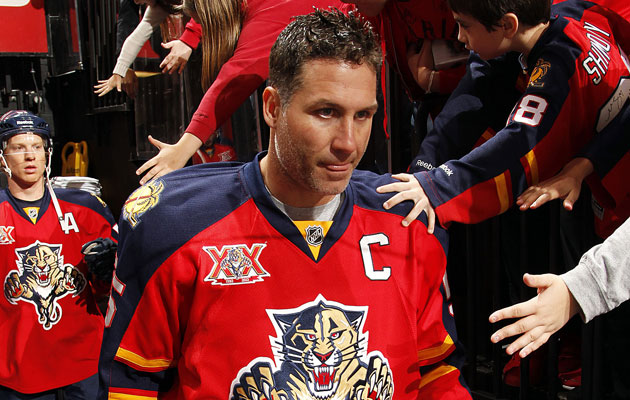 More NHL Offseason: NHL rumors | Rumor mill | Trade Tracker | 2014-15 preseason odds
The Florida Panthers will be in the market for a new captain.
On Sunday the Panthers placed veteran defenseman Ed Jovanovski on waivers with the intent of buying out the final year of his contract. The team is expected to use one of their two compliance buyouts and take Jovanovski's $4.125 million cap hit off the books.
I believe #FlaPanthers buyout of Ed Jovanovski will be a compliance buyout. Each team has two from the new CBA and Florida hasn't used one.

— George Richards (@GeorgeRichards) June 29, 2014
This move figured to be a no-brainer for the Panthers, the question was if they would actually execute the buyout. But with new ownership wanting to win and promising that money is not much of an issue for the roster, they are able to make this move. Based on what the new owners have said, they would like to use that extra space if they do use a compliance buyout.
It's unfortunate for Jovanovski, who just hasn't been able to stay on the ice much, but also probably not unexpected. It's a very real possibility that Jovanovski has played his final games in the NHL as the 38-year-old has been limited to just 43 games in the past two seasons after undergoing a major operation to clear up a chronic injury.
Jovanovski was brought back to Florida, where his career began when he was the No. 1 pick way back in 1994, in 2011 when GM Dale Tallon signed him to a four-year deal worth $16.5 million. It was a huge contract then that had plenty of skeptics and while the Panthers liked wha JovoCop gave them in the leadership department, he just wasn't able to play enough and when he did, he wasn't giving them major minutes.
This past season Jovanovski did play in 37 games, finishing with a goal and four assists. His biggest role, though, was serving as a mentor of sorts to the younger Panthers defensemen.
With Jovanovski going off the books (we're assuming a compliance buyout), the Panthers will have a lot of money to spend in the coming weeks as they will look for help on D as well as on the wing, not to mention re-signing their own players. Like three years ago when they signed Jovanovski, this could be a very busy and high-spending few weeks for Tallon.
Pittsburgh also has been linked to Matt Duchene and could be in the mix for Tyler Bozak

Nashville extends its 24-year-old restricted free agent with what could be bargain numbers

Calgary forward is all for playing for the Flames, but he also likes the idea of going to...
Plans for renovating KeyArena are now also being overseen by NHL-to-Seattle hopefuls

With Leslie Anderson selling the Rockets, there is newfound hope for hockey in Houston

Pittsburgh Penguins' repeat Conn Smythe Trophy winner has more than hockey on his athletic...