Erik Karlsson on silver medal value: 'See when I put it out on eBay'
Erik Karlsson won a silver medal with Sweden's hockey team but he doesn't seem too interested in keeping it, presumably because it's not the right color.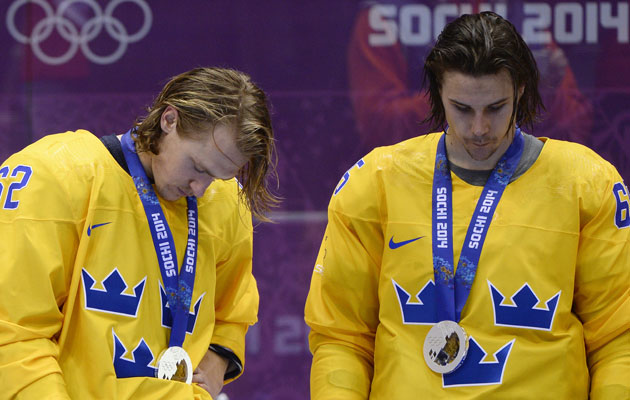 To leave the Olympics with a medal is a dream come true for most athletes. For one example, just go watch how the USA four-man bobsled team reacted to winning a bronze medal in Sochi even after winning gold in Vancouver. It's a huge deal and the medal gives the athletes something tangible to hold onto forever to remember it.
Erik Karlsson is not one of those athletes. You hear the idea of Gold or Bust at the Olympics and Karlsson seems set on sticking to that mantra. He picked up a silver medal with Sweden after losing to Canada in the final but the Senators defenseman doesn't seem too keen on it.
From Senators Extra's James Gordon.
According to Olympic News Service, this is what he had to say when asked what his silver medal meant to him: "You will see when I put it out on eBay."

Karlsson went on to say that the Swedes' accomplishment will be something to look back on with pride one day, but he's just not there yet.
Here's an idea: Before Karlsson puts the medal on eBay, maybe he should offer it up to Swedish teammate Nicklas Backstrom, whose silver medal is being held right now by the IIHF after he tested positive for a banned substance ... that came from allergy medication.
Karlsson's frustration is understandable. While in those other events at the Olympics athletes "win" silver or bronze, in a team sport like hockey you really do "lose" to get the silver. Of course, your team won all the games up to that point but the silver in hockey always comes with a loss. That's tough.
Karlsson appeared to be more frustrated than most Swedish players, at least outwardly. This was him late in that gold-medal game. (Via @PeteBlackburn)
Still, it's hard to imagine Karlsson won't come to regret it if he does sell his medal. This could be his only chance to compete in the Olympics and to have a medal, even if it's silver, for the rest of his life is priceless, especially considering Karlsson doesn't need the money.
When your goal is gold, coming away with the silver stings. But it sure beats having no medal to show for your effort at all, does it not?
S/t The Score
Show Comments
Hide Comments
Series schedules, results and updates from the first round of the Stanley Cup race

Ottawa took a 3-2 decision to send Boston home

Stevens was L.A.'s interim coach for four games in the 2011-12 season
St. Louis, New York and Edmonton eked out victories that eliminated Minnesota, Montreal and...

Fresh off the Predators' sweep of the Blackhawks, Gnash is fired up for his team

A tougher opponent awaits either Toronto or Washington, and the Bruins hung on to beat Ott...