Evgeny Kuznetsov has KHL contract terminated, could be Cap soon
Capitals 2010 first-round pick Evgeny Kuznetsov had his KHL terminated on Thursday, clearing a major hurdle to get him to Washington this season.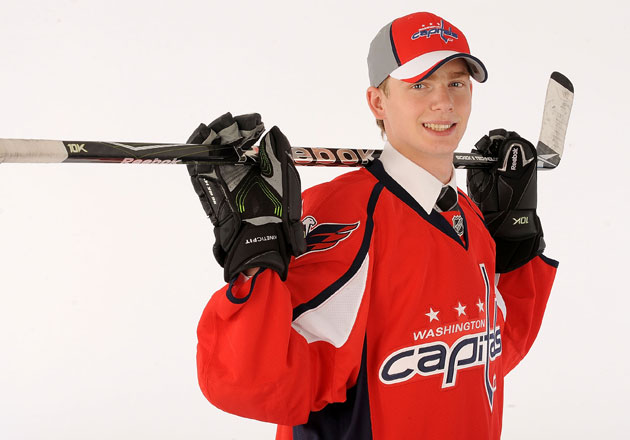 More NHL: Trades | Scores | Standings | League Leaders | Odds  | Power Rankings
Ever since the Washington Capitals drafted the very talented Evgeny Kuznetsov out of Russia in the first round in 2010, fans in DC have been dreaming and at time drooling over the day day Kuznetsov would finally arrive.
That day might be right around the corner. Kuznetsov, who has been playing with Traktor in the KHL, was released from his contract on Thursday. It was announced by the KHL on their Facebook page (if you want to read the translation, RussianMachineNeverBreaks.com has you covered).
Next come negotiations with the Capitals on a contract and assuming that doesn't take all that long -- which it shouldn't being an entry-level deal -- the NHL. It's a trade-deadline acquisition of sorts, only they didn't give up anything for him and he's not a rental.
Alex Ovechkin said on Wednesday that he had just spoken to his compatriot and that it was just a matter of wait and see. That changes dramatically with the contract being terminated in the KHL, the big hurdle has been cleared.
There's no doubting that Kuznetsov is talented and has a lot of promise for the Caps but it's probably best to temper expectations for when he does get over. The transition to the NHL isn't easy for everybody.
This season for Traktor, Kuznetsov had eight goals and 13 assists in 31 games. Last season he had 19 goals and 25 assists in 51 games. He also excelled on the World Junior Championsthip stage. Certainly the offensive potential is there. Soon the Capitals and their fans should get to see it up close.
Show Comments
Hide Comments
Our Latest Stories
They're still trying to get the hang of a few things in Beijing

Team North America, ref cam among the good; Team USA and TV ratings among the bad

A stunning final three minutes of regulation in Game 2 gave the hosts the title
The new Habs forward will miss three of the team's five remaining preseason games

Maple Leafs, Coyotes have a lot of prospects to keep a close eye on as camps progress

It may sound strange, but some of the toughest guys on the ice are the linesmen