Five for Fighting: Reasons why Stanley Cup playoffs are the best
From the thrill of a true sudden-death goal to the crown of all jewels, five reasons why the Stanley Cup playoffs are the best in sports.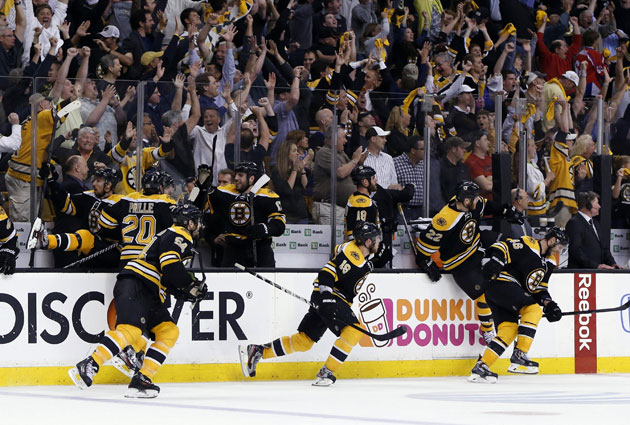 More NHL Playoffs: Scores | TV Schedule | Expert Picks | Odds | Mock Draft | Rumors
Every day, we'll have a top-five list that is pretty self-explanatory, all in this man's opinion. Today: Top five reasons the Stanley Cup playoffs are the best.
No. 5: Toughness. Yes, this gets celebrated perhaps a little too much. But in the NHL, it comes with the territory with very few exceptions. Seeing a guy like Bruins forward Gregory Campbell finish a shift on a broken leg is awesome and not uncommon, especially in the postseason. Other sports have these types of moments, too, but it seems they happen a lot more in hockey. That's not a putdown of other sports, just a recognition for hockey and its players.
No. 4: Unlikely heroes. Both baseball and football can produce them, too, but it's a regular thing with the NHL postseason. Every year, you have a guy like Bryan Bickell in Chicago right now who surprises and has a monster campaign. Other years, you have had guys like Joel Ward and Sean Bergenheim. Or, in other circumstances, they just score that one big goal.
No. 3: Balance. In hockey, it's not uncommon at all for the top seeds to go down. Just last season, for example, the eight seed in the West won the Stanley Cup. In the Eastern Conference, no No. 1 seed has made it to the Stanley Cup Final since 2004. It's partly the nature of the game, but a hockey game will almost always be tight, especially when you get the best of the best squaring off. The tightness just adds to the drama and unpredictability. The smallest things can make the biggest impacts.
No. 2: The Cup. It is almost an accepted fact across sports that there is no better trophy than the Stanley Cup. It gets passed around from team to team. It's not a replica, so it literally carries history with it everywhere it goes. It doubles as a breakfast bowl or a beer cup or anything else a player wants to do with it. And, aesthetically, does any champion in sports look better than a hockey captain hoisting the Cup over his head? The only one that I can think of that compares is the World Cup, where all the players point it skyward in a group. The Cup rules.
No. 1: True sudden death. Playoff hockey will go on as long as it needs to. That's no different than the other sports. You have to play until there is a winner. But in hockey, overtime truly is a sudden-death situation. One goal, and because of the nature of the game it can come out of thin air just like that. In football, where they also have sudden death, you can so often see it coming. A team marches down the field, sets up three running plays for a field goal. It's often more of a slow, painful death. Hockey playoffs always produce something sudden, and that's just more fun -- or heart-breaking if your team is on the wrong side. It's the ultimate sports drama. Just look at the reaction to Game 3 in Boston on Wednesday night as Jim Rome put it best.
Dagger.Boston just ripped Pittsburgh's heart out in double OT.No postseason is better than the NHL's.

— Jim Rome (@jimrome) June 6, 2013
(Honorable mention: The post-series handshakes and pretty much every other facet of playoff hockey that you can think of. It rules.)
Show Comments
Hide Comments
With the playoff field cut in half, the stakes keep getting raised

Green has led Vancouver's AHL affiliate since 2013

Series schedules, results and updates from the second round of the Stanley Cup race
Here's how to stay on top of all of the NHL's second-round playoff series, which begin Wed...

Series schedules, results and updates from the first round of the Stanley Cup race

Ottawa took a 3-2 decision to send Boston home, and Washington outlasted Toronto, 2-1