Five for Fighting: The key to the Red Wings' postseason success
The Detroit Red Wings have exceeded all expectations this season and in the playoffs. So here are the top-five reasons for their success.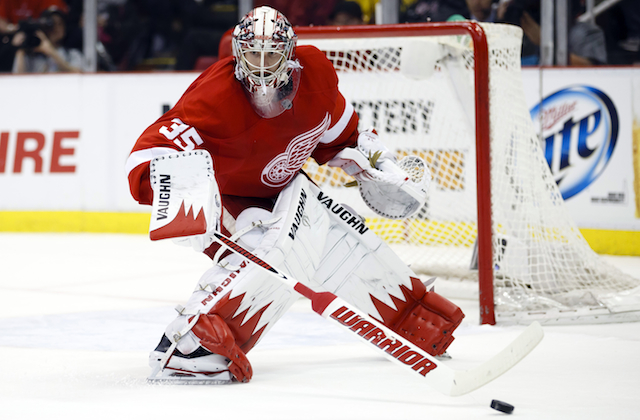 More NHL Playoffs: Scores | TV Schedule | Expert Picks | Odds | Mock Draft | Rumors
Every day, we'll have a top-five list that is pretty self-explanatory and is all in this man's opinion. Feel free to disagree and argue. Today: The five reasons the Detroit Red Wings have done so well in the postseason.
No. 5. The Young guys: Veterans Pavel Datsyuk (more on him in a minute) and Henrik Zetterberg are still driving the bus for this team, but there are some really impressive young players getting some important on-the-job training. Damien Brunner, Gustav Nyquist and Brendan Smith all look like they're on their way to strong NHL careers.
No. 4. Niklas Kronwall and Jonathan Ericsson: No Nicklas Lidstrom and Brian Rafalski to anchor the defense anymore? No problem. At least not now. The Red Wings had some issues on the blue line this season, especially early, but this pairing has been solid in the postseason, especially in round two going up against Chicago's top line. Kronwall actually had a really underrated season. He's known for his huge open-ice hits, but he had a great year offensively and stepped into the No. 1 role.
No. 3. Mike Babcock and Ken Holland: Breaking news! Mike Babcock is a good coach. And this might be his finest coaching job yet given the number of young players that he's had to work into the lineup and the holes that he's had to fill on defense over the past couple of years. And let's not forget that Ken Holland runs a pretty strong organization in the front office and has given the team the type of young assets needed to start writing a new chapter in the Red Wings' history book.
No. 2. Pavel Datsyuk: Still worth the price of admission on his own every night and a pleasure to watch. Datsyuk is getting it done in every situation and at both ends of the ice. He has been their best non-goaltender in the postseason.
And speaking of the goaltender ...
No. 1. Jimmy Howard: When the Red Wings were competing for the Stanley Cup five years ago, they weren't really doing it because of their goaltending. If there was a weakness on those 2008 and 2009 teams, it was most definitely in net. Not the case with this team as Jimmy Howard has been a rock for the Red Wings and has covered up for some of the shortcomings that existed on the blue line for much of the season. This team probably wouldn't be in the position that it's in if not for the play of Howard.

Show Comments
Hide Comments
With the playoff field cut in half, the stakes keep getting raised

Green has led Vancouver's AHL affiliate since 2013

Series schedules, results and updates from the second round of the Stanley Cup race
Here's how to stay on top of all of the NHL's second-round playoff series, which begin Wed...

Series schedules, results and updates from the first round of the Stanley Cup race

Ottawa took a 3-2 decision to send Boston home, and Washington outlasted Toronto, 2-1