Five for Fighting: The postseason's biggest breakout performers
Which players have had the most surprising/biggest breakout showings in the playoffs? It has to start with Chicago's Bryan Bickell.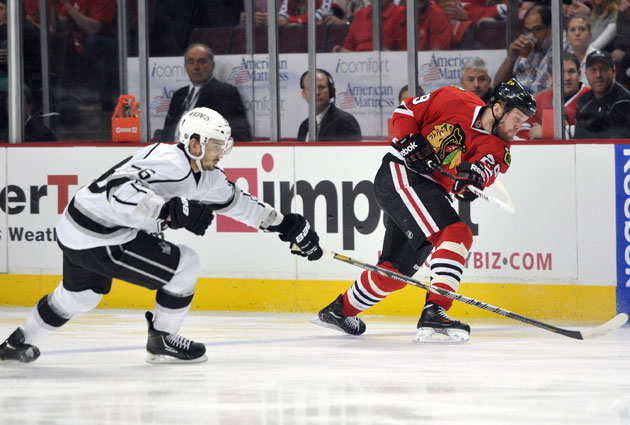 More NHL Playoffs: Scores | TV Schedule | Expert Picks | Odds | Mock Draft | Rumors
Every day, we'll have a top-five list that is pretty self-explanatory, all in this man's opinion. Today: The five breakout players of the postseason.
No. 5: Matt Bartkowski. The defenseman who was the centerpiece of Boston's proposed trade to Calgary for Jarome Iginla, he played an important role in the first two series for the Bruins as they got banged up on the blue line. He hasn't played in the Pittsburgh series, but he showed, especially against the Rangers, that he is ready to be an NHL player.
No. 4: Derick Brassard. The only player on this list whose team isn't still playing, Brassard is a former first-round pick and has been in the league a few years. So perhaps he wasn't really breaking out. But with the players the Rangers employ, it was a bit surprising to see him lead the team in scoring this postseason with 12 points in 12 games. That production wasn't necessarily something they were counting on.
No. 3: Torey Krug. Krug went undrafted out of college and was forced into action with the Bruins' blue line so beat up vs. the Rangers. Boy, did he ever respond well. He has four goals and two assists in just seven games and has even remained in the lineup vs. the Penguins as the defensive corps returns to a healthier state. He's a restricted free agent next summer. If he continues a high level of play, he's going to be in line for a nice deal.
No. 2: Slava Voynov. Completely overshadowed by LA's other young defenseman, Voynov has been very good for the Kings even before the playoffs, but he has been money in the postseason. He already had four game-winning goals, which puts the 23-year-old into a conversation with guys like Bobby Orr for the most production from a young defenseman. Voynov is an RFA this summer, and if the Kings don't pony up, some team might try to poach him.
No. 1: Bryan Bickell. Speaking of somebody who is going to get paid. He has had a breakout postseason, scoring seven goals already -- more than he scored in the regular season. He is a big body playing his best in the playoffs, just like Joel Ward a couple years ago, and Ward cashed in with a nice deal from Washington. Bickell is playing his way toward a similar situation.
Show Comments
Hide Comments
Stevens was L.A.'s interim coach for four games in the 2011-12 season

Series schedules, results and updates from the first round of the Stanley Cup race

St. Louis, New York and Edmonton eked out victories that eliminated Minnesota, Montreal and...
Fresh off the Predators' sweep of the Blackhawks, Gnash is fired up for his team

A tougher opponent awaits either Toronto or Washington, and the Bruins hung on to beat Ott...

Linesman Don Henderson is reportedly seeking $10.25 million in damages from a January 2016...