Five free agents who are flying under the radar
Sometimes the biggest names in free agency aren't the best players to sign. Here are five free agents who have snuck under the radar this summer.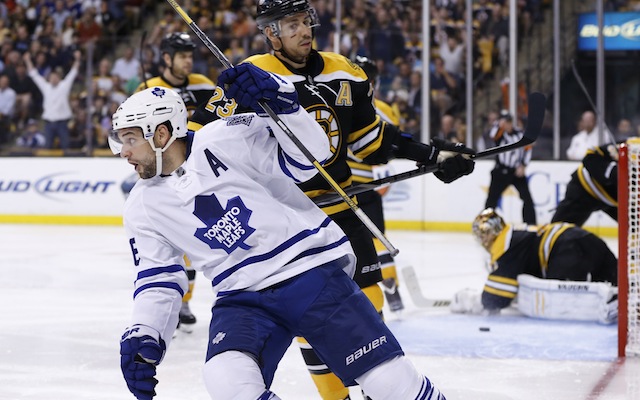 More NHL offseason: Rumors | Top 50 Free Agents
When free agents are allowed to sign with new teams beginning Friday, the names that will dominate the conversation and get the biggest contracts will be players like Nathan Horton, David Clarkson, Danny Briere and Valtteri Filppula.
It's not a great crop of players in terms of top-tier talent, and this year's free-agent frenzy is definitely missing impact players like Zach Parise and Ryan Suter. That makes it a pretty dangerous time for aggressive general managers looking to improve their teams. They're going to have to spend that money on somebody and will probably get into bidding wars for guys like Clarkson and Horton, and ultimately end up paying more than they would like.
That doesn't mean there still aren't some potential values on the open market who can improve a team without requiring a huge long-term investment.
Here are five players who might fit that description.
1. Clarke MacArthur, F: The Toronto Maple Leafs didn't use MacArthur anywhere near as much as they should have last season.
When they did, he produced. Why they didn't use him more, especially in the playoffs, is a question that only general manager Dave Nonis and coach Randy Carlyle can answer.
MacArthur's ice time dropped during the regular season, he sat out two of the Maple Leafs' seven playoff games against Boston (he scored two goals in the five postseason games in which he played) and was only given 12 minutes of ice time per game. It was bizarre treatment for a guy who scored 20 goals in each of the previous two seasons. Along with the goals, MacArthur has proven throughout his career that he's capable of playing tough minutes and helping his team generate shots while also being a steady 20-goal scorer.
For me, his usage wasn't a reflection of his ability as a player but more of some bizarre mismanagement by the coaching staff and front office.
What's funny is the Maple Leafs are one of the teams most rumored to be interested in Clarkson, the former Devils forward. They're probably going to sign him for big money and let MacArthur walk right out the door.
It wouldn't be a huge shock to this corner of the Internet if MacArthur ended up scoring more goals than Clarkson in 2013-14 on a different team that's paying him less money.
2. Tom Gilbert, D: Minnesota used one of its cap compliance buyouts on Gilbert this week, and that's a bit of a surprise. Well, it's not so much a surprise that Minnesota decided to part ways with him because of salary-cap constraints, but it is a little surprising that they couldn't find another team in the NHL willing to trade for him.
This crop of free agents is weak in general. For defensemen, it's a complete wasteland highlighted by a couple of 35-plus guys in Sergei Gonchar and Mark Streit. And they're already off the market, having signed $5M-per-year contracts (Gonchar in Dallas, Streit in Philadelphia) after their free-agent rights were traded.
There has to be a spot for Gilbert somewhere in the NHL. It might say more about this crop of free agents than it does Gilbert, but given the rest of the blue-line options who are available I'm not sure there's another one whom I would rather take a chance on this summer than him. Gilbert is a good skater, he can get the play started out of his own end and move the puck up the ice and he has a history of getting tough matchups (while playing on some bad teams) and holding his own. He's not a No. 1 defenseman or a guy whom you want to throw out on your top pair. But as a No. 3 or 4, he would be more than adequate.
3. Damien Brunner, F: Brunner is still a bit of a mystery. He's 27 and has only played half a season in the NHL. But he has an impressive track record in Europe, has a lot of skill and was very impressive in his debut season with the Detroit Red Wings, scoring 12 goals to go with 14 assists in 44 games while posting some strong possession numbers in some relatively tough minutes. He also had five goals and four assists in 14 playoff games.
He's a bit of a wild card, and there's still a boom-or-bust feel to him given how small of a sample size that we have to work with in his NHL career, but he shouldn't break the bank when it comes to a financial commitment and could be a useful player for a team looking for a top-nine winger without dedicating a ton of salary-cap space to it.
4. Viktor Stalberg, F: Over the past few years, the Chicago Blackhawks rebuilt a lot of the depth that they lost following their 2010 Stanley Cup run, and their third line of Stalberg, Bryan Bickell and Andrew Shaw was a big part of it in 2013.
Stalberg is the only one of that trio who is unlikely to return next season. He's set to hit the open market, and he's a player whose game I've always liked. He has tremendous speed, isn't a complete zero defensively and can play a lot of roles up and down your lineup, whether it be as a third liner or filling in on the top six. He doesn't always use his size the way that you would like a 6-foot-3, 200-plus-pound forward to, but he still brings a lot of energy and speed to the lineup.
5. Boyd Gordon, F: Gordon just might be the best defensive forward in the NHL whom nobody knows about. Don't count on him to put up any sort of offensive numbers; he usually checks in with about five goals and 15 total points. What he is going to do is give you a player who has proven that he's capable of going up against the best players in the league in the toughest situations and shutting them down.
His most common opponents this past season at 5-on-5 were Martin Havlat, Patrick Marleau, Logan Couture, Joe Thornton, Jonathan Toews, Marian Hossa, Jordan Eberle, Ryan Nugent-Hopkins, Brandon Saad, Curtis Glencross and Teemu Selanne. Gordon also started the majority of his shifts in the defensive zone and still put up some sensational defensive numbers. The Coyotes outshot their opponents with him on the ice, outscored them and allowed fewer than two goals per 60 minutes.
That is impressive and should have resulted in some serious Selke Trophy consideration.
Show Comments
Hide Comments
Pittsburgh has the talent and experience, but the Predators' fiery blue line should help them...

The Predators are riding an opportunistic defense and superb goalie, while the Pens boast elite...

Washington and Toronto set to face off March 3 in Annapolis
"Let's go, Preds!" chants take on a whole new meaning in the hype piece

Both Stanley Cup Final contenders cracked the list of top 10 teams searched in 2016-17

The Preds will need more from their blue-line depth, and Pittsburgh has to capitalize in s...