Flyers sign Scott Hartnell to six-year contract extension
The Philadelphia Flyers signed another one of their star players to a multi-year extension, inking Scott Hartnell to a new deal and announcing it on Monday.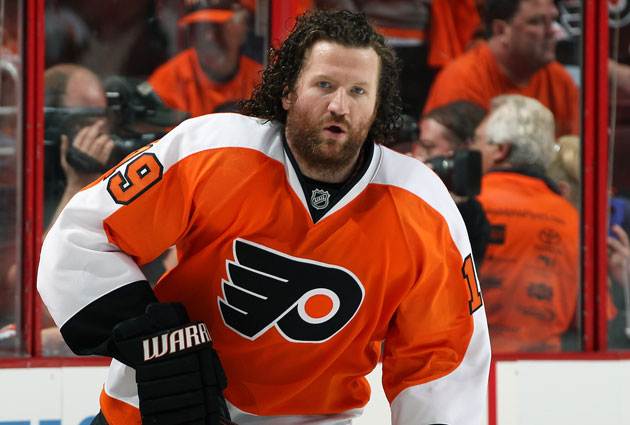 Hartnell is coming off a career year with Philly. (Getty Images)
The Philadelphia Flyers signed another one of their star players to a multi-year extension, inking Scott Hartnell to a new deal and announcing it on Monday.
Per team policy the Flyers didn't announce the length of the deal but all reports have it as a six-year contract, the same length as the one recently signed by Wayne Simmonds.
"We are pleased to announce that we have agreed with Scott on a multi-year extension," GM Paul Holmgren said in the team's release. "Scott has been a very good player for us over the last five seasons and we look forward to many more good years to come."
That's exactly right, he was a good player for the Flyers for the first four seasons of his tenure in Philadelphia. In the fifth, he was great, scoring a career high 37 goals to go with 30 assists last season. It meant that the time was just right for Hartnell to cash in on a new deal, something he obviously has done.
"I am very happy to be staying in Philly to continue my career playing in front of the best fans in the NHL," Hartnell said. "I would like to thank Mr. Snider and the entire Flyers organization."
The first report on the money had it as $5.5 million per season over the six seasons, or $33 million total. But that number has since come down as reported by Tim Pannacio of CSN Philly. He reports the deal is for $28.5 million, or $4.75 million per season, which definitely seems better for the Flyers.
Either way, Hartnell was seen dancing something like this.
The Flyers are taking a gamble here, but the lower price than what was first reported makes it a little easier to make. Hartnell is coming off a career season and there is certainly a risk in banking on him performing at or near that level each season until 2019.
Still, he comes to the Flyers most likely cheaper than he would have to another team in free agency. Assuming he can keep the level of play up and make another All-Star team or two, the money won't be that bad.
It's interesting to note that it's another contract extension being snuck in before a new CBA is worked out, one that has a term that is longer than the owners asked for in their original proposal, which asked for a five-year limit. Nothing like sticking to the company line.
This deal actually means that the Flyers have nine different players signed through at least the 2015-16 season, some longer. The chances of those players seeing their contracts finish in Philadelphia? Probably about as good as the upcoming season actually starting on time.
The Flyers have had a bit of a habit recently of signing players to long-term extensions only to trade them away soon after. Ask Jeff Carter, Mike Richards and James van Riemsdyk how that goes.
Hartnell came to the Flyers in a trade in 2007 along with defenseman Kimmo Timonen from the Predators for a first-round draft pick which the Preds turned into Jonathan Blum. Not a bad deal for Philly, I'd say.
For more hockey news, rumors and analysis, follow @EyeOnHockey and @StubitsCBS on Twitter and like us on Facebook.
Show Comments
Hide Comments
Series schedules, results and updates from the second round of the Stanley Cup race

New Jersey claims No. 1 draft pick after having an 8.5 percent chance of earning the top s...

Ottawa takes a 2-0 lead over New York, and Pittsburgh does the same against Washington
St. Louis connected on one of five power plays to tie the series while Anaheim loses again...

Ottawa's defense came up big in Game 1 to beat New York, and the Penguins beat the Capitals...

Subban had three points in Nashville's 4-3 win over St. Louis in Game 1, while Edmonton dropped...