Game 7 Preview: Third time charm for Bruins trying to finish Leafs?
It all comes down to this for the Bruins and Maple Leafs, one game in Boston to see who advances. Previewing an Original Six Game 7.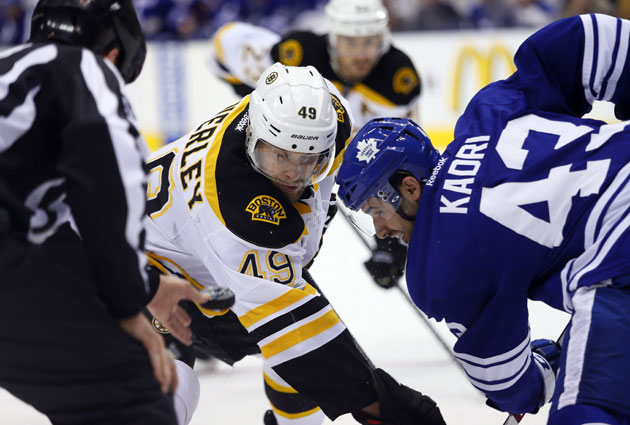 More NHL Playoffs: Scores | TV Schedule | Expert Picks | Odds | Mock Draft | Rumors
Going into Game 5, the Toronto Maple Leafs were supposed to be on their metaphorical death bed, ready to roll over and have the Bruins skate on by and into the second round. Then a funny thing happened, the Leafs won. Twice. Now we have a Game 7 with a completely different complexion.
Whether it was by coach's intuition or injuries forcing Randy Carlyle's hand, the Leafs have found something that works. Namely that something is actually playing Jake Gardiner on defense. The young defenseman was teamed up with Cody Franson in Game 6 and the two were fantastic. It makes you wonder -- again -- why Gardiner wasn't playing like this earlier. Remember, he was scratched for Game 1.
Whatever the reason, the point is it has given the Leafs new life. Toronto has won two straight to force the series to a Game 7 and the Leafs have all the momentum in the world.
It's not often that momentum carries over game to game in hockey. Players do a good job of forgetting about the last game and moving on. That said, things are just going Toronto's way right now. They have seemed to figure out what to do. As the series has advanced they have been finding a little more success at getting chances and reducing Boston's at the same time. That's one way how Gardiner has played a big role. He has been able to execute breakouts and help minimize the Bruins' forecheck.
As good as the feelings are around the Leafs going into this one, the angst/frustration seems to be getting as high for Boston. In particular, the line of Tyler Seguin, Patrice Bergeron and Brad Marchand is feeling the heat. The top line can't do all of the heavy lifting.
That trio was so good for the Bruins this season, each player had at least 32 points on the season. This postseason they have three points. Combined. Seguin has yet to register a single point in six games.
If Boston is going to advance that must change. It's almost like the affliction that Phil Kessel suffered for years by struggling against his former team has switched to Seguin. He was never a Maple Leaf, but it was Toronto's draft spot that the Bruins selected him from after trading Kessel. Simply put, the Bruins need more from him and his linemates. At this point they would settle for any production from Seguin.
One thing is for sure, the goaltenders haven't been an issue for either team in this series. It's somewhat crazy -- though not too much with the small sample size and all -- but Tuukka Rask and James Reimer have equal .932 save percentages. They have both been spectacular -- particularly Reimer in the last two games -- but have been pretty much even, so this game will likely be decided by the skaters.
Before big games such as this, people in sports tend to overanalyze the game, particularly from the intangibles aspect. The importance of home ice and the crowd, momentum from game to game, fatigue, etc. But in this game fatigue is a real concern for the Bruins. Potentially, at least.
They were stuck overnight in Toronto because of an airplane malfunction while the Leafs flew to Boston and waited. The Bruins didn't leave for home until Monday morning and weren't slated to get back until a mere nine hours before faceoff. They certainly won't use it as an excuse and it probably won't be a big deal, but it's just a needless interruption before their biggest game of the season to date.
Maple Leafs will win if: They can jump out of the gate with a strong start. If there is such a thing as momentum from game to game they need to make sure it carries over. Particularly as a road team in a hostile environment, a fast start is essential, Detroit showed that Sunday night in Anaheim. They don't have to necessarily score early, but play well. It wouldn't hurt to have Reimer continue to amaze either.
Bruins will win if: They can get some help from beyond David Krejci, Milan Lucic and Nathan Horton. The lower lines have been eerily quiet, especially in the past few games. It's not like the Leafs have been lighting up Rask, they just need a little more offensive production. They'll also need to take advantage of the last change, getting Zdeno Chara on the ice against the right opponents is crucial.
Prediction: I have little confidence in this prediction at this point because this series has flipped so fast on its head, but I still like the Bruins to win it. I am going to throw a 3-1 final score to the wall and see if it sticks.
Show Comments
Hide Comments
Series schedules, results and updates from the second round of the Stanley Cup race

Here's how to stay on top of all of the NHL's second-round playoff series, which begin Wed...

Series schedules, results and updates from the first round of the Stanley Cup race
Ottawa took a 3-2 decision to send Boston home, and Washington outlasted Toronto, 2-1

Stevens was L.A.'s interim coach for four games in the 2011-12 season

St. Louis, New York and Edmonton eked out victories that eliminated Minnesota, Montreal and...